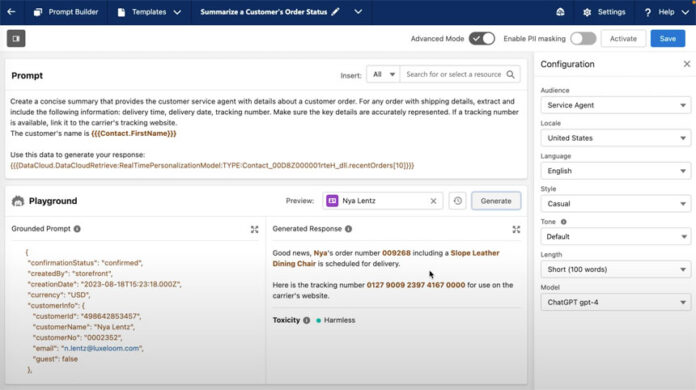 IBL News | New York
At its Dreamforce customer conference in San Francisco this week, Salesforce.com announced Einstein Copilot Studio, a tool that consists of three elements to build custom generative AI applications with low-code knowledge: prompt builder, skills builder, and model builder. It will be available as a pilot this fall, according to the company.
The prompt builder allows customizing and creating templates for clients' product or brand offerings that aren't available out of the box with Einstein GPT or Einstein Copilot.
The skills builder enables companies to add actions to prompts. Some examples include running a competitor analysis or objection handling.
The model builder lets enterprise companies bring their model or use one of the supported third-party offerings like Anthropic, Cohere, Databricks, Google Cloud's Vertex AI, and OpenAI.
Einstein Copilot Studio says that it makes accessible all the components from across the Salesforce platforms.
To deal with hallucinations — when a model makes up an answer or provides inappropriate responses — and help companies manage security, governance, and data privacy, Salesforce is building a system called "the Einstein Trust Layer."
.