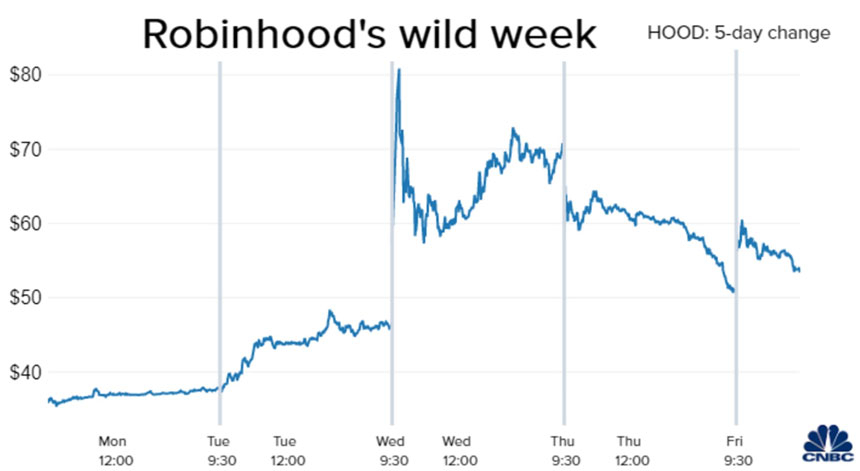 IBL News | New York
The free-commission trading app Robinhood (NASDAQ: HOOD) closed a wild week trading up with a gain of 56.5%, after another jump of 7.9% this Friday. The stock ranked among the most actively traded companies valued at more than $500 million. The surge added $30.2 billion of market value to the controversial start-up.
This wild ride contrasted with the lackluster debut on the Nasdaq last week.
Analysts agree to feature Robinhood — whose app helped fuel the memeification of the market — as a meme-stock. The presence of amateur investors fueling rallies is truly confusing fundamental analysts.
"It has officially become a meme stock, and this week's wild ride could be just the beginning if legions of amateur investors pull money from their old favorites to buy more shares while insiders are dumping them," wrote Bailey Lipschultz for Bloomberg.
This meme status resembled the stock rallies of AMC and GameStop earlier this year.
Insisting on this volatility, Eric Schiffer, chairman of Patriarch Organization, a Los Angeles-based private equity firm, said, "investors need to recognize that this is going to trade like a crypto or other meme-related stocks in the short run and they could see significant positional changes."  
Skeptics note on Thursday's 27% drop after the news that existing stockholders would sell up to 97.9 million shares over time. On Friday, Robinhood reiterated that it was not selling any stock for now.
"Robinhood is not itself selling any additional securities but filed the Resale S-1 on behalf of certain of its shareholders pursuant to a pre-existing contractual obligation," Robinhood said.
Anyway, the SEC would need to approve any transaction after Robinhood's second-quarter earnings on August 18.
The three-day rally of the stock began on Tuesday and it was triggered by news that Cathie Wood's exchange-traded funds were snapping up shares. It was refueled when options started trading Wednesday.
The market consensus is that when meme traders strike, the volatility will be unprecedented like it's happening with crypto stocks.