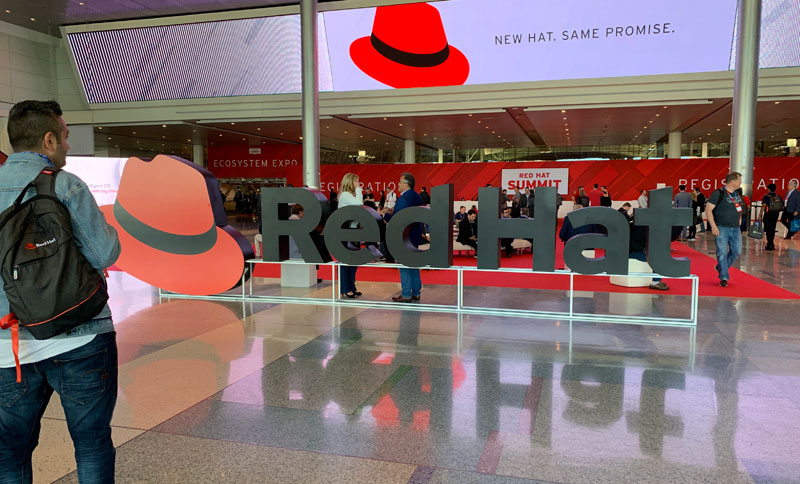 Mikel Amigot | IBL News (Boston)
"Red Hat has evolved from a one-product company to the enterprise open source leader with a full portfolio stack," said its CEO Jim Whitehurst during the first annual summit, which took place this week.
To highlight the moment, Red Hat modified its logo and launched a campaign around "open source" and how "it unlocks the world's potential".
"We hope you share the same passion", encouraged Tim Yeaton, Executive Vice President and Chief Marketing Officer.
To live by the example, this manager inked himself with an arm tattoo displaying the company logo. He proudly showed it on stage during a talk about "open source stories" this Wednesday.
Another executive, Leigh Day, Marketing Communications Manager, did exactly the same.
In addition to updating its brand, Red Hat publicized several case studies (from
giants such as Delta or Deutsche Bank to farming and educational projects) who utilize open source hardware and software.
The Red Hat Summit in Boston was also notorious for the visit of Microsoft CEO Satya Nadella, who walked on stage to talk with Jim Whitehurst, and bear the news of a new joint Microsoft-Red Hat program: Azure Red Hat OpenShift.
Two decades ago Microsoft's Chairman Steve Ballmer claimed that "Linux is a cancer", and now its CEO is coming into a major Linux tradeshow and announcing a partnership. (On the open source Open edX universe we've also seen a similar approach from Microsoft).
Satya Nadella explained that Microsoft has embraced open source, "because it's driven by what I believe is fundamentally what our customers expect for us to do. Which is to say: Doing what's best for both companies' customers."
"We have to be a bit more humble and say, 'Okay, how do we bring value to the table with great technologies coming from a lot of places?,'" he added.
Whitehurst replied: "Five years ago we had been linked to the whole adversary relationship. It's just amazing to see how much progress we've had together. And I think that's on both sides and both desire to serve our customers, and we found such great range to work together."
Microsoft's move seems mostly motivated because its interest on promoting Azure on its fight with AWS, Google Cloud and others.
Last year, Red Hat brought its enterprise Kubernetes OpenShift platform to Microsoft's Azure cloud.
The two companies see this pairing as a road forward for hybrid-cloud computing.
IBM's Acquisition Approved
Just ahead of this conference, the US Department of Justice approved IBM's proposed Red Hat acquisition, which was announced last October. This means the IBM/Red Hat acquisition for $34 Billion is still on track for the second half of 2019.
During the summit, IBM Chair and CEO Ginni Rometty reiterated Tuesday that Red Hat would remain independent as promised.
"Jim and I have both agreed—Red Hat should stay an independent unit," she said during his keynote.
"I'm not buying them to destroy them. It's a win win for our clients. It's a way to drive more innovation."
• Resource: Red Hat's Press Conference Materials (PDF)
• Video recap of the Summit
[Note: Microsoft, RedHat and IBM are edX partners and utilize the Open edX platform in their training at scale]