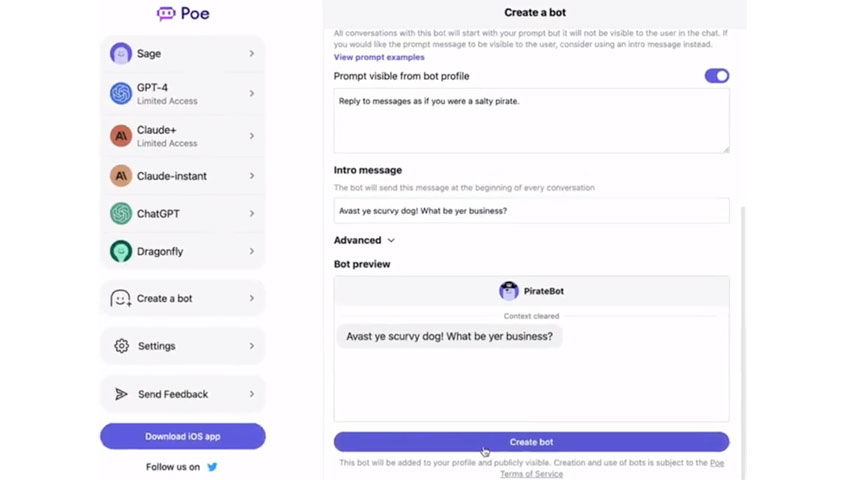 IBL News | New York
Q&A site Quora issued this week a new feature on its chatbot Poe that allow users to make their own chatbot based on a short text prompt and an existing bot, like ChatGPT, as the base.
Poe is the latest product from Quora as the company tries to expand into the search market by allowing consumers to play with technologies like OpenAI and Anthropic via simple mobile interfaces.
The new chatbot offers the ability for users to create their own bots using prompts — that is, adding text to direct a chatbot to perform as a favorite author, in a particular format, or aimed at a certain audience, among other things. Poe targets a new creator class within the field of prompt engineering.
Once created, the chatbot, based on either Claude or ChatGPT, will have its own unique URL (poe.com/botname). Users will access the bots via Poe's iOS app or Android app on mobile or via its desktop web interface.
"It's amazing how much value prompting can unlock from language models," Quora CEO Adam D'Angelo said.
Quora plans to offer bot creators feedback about how people are using their the tool, along with an API that would allow anyone to host more complex bots from a server they operate potential. It'd a new business for Quora, as well.
To date, the mobile app version of Poe has 1.17 million installs and has generated $520,000 in gross revenue, according to app intelligence firm data.ai. The app is currently ranked No. 32 in the Productivity category on the App Store.
We are launching a new feature on Poe today: user-created bots. This initially allows anyone to create a new bot based on a short text prompt and an existing bot used as a base. We currently support Claude instant and ChatGPT as base bots. pic.twitter.com/Fr2Leoum8v

— Adam D'Angelo (@adamdangelo) April 7, 2023