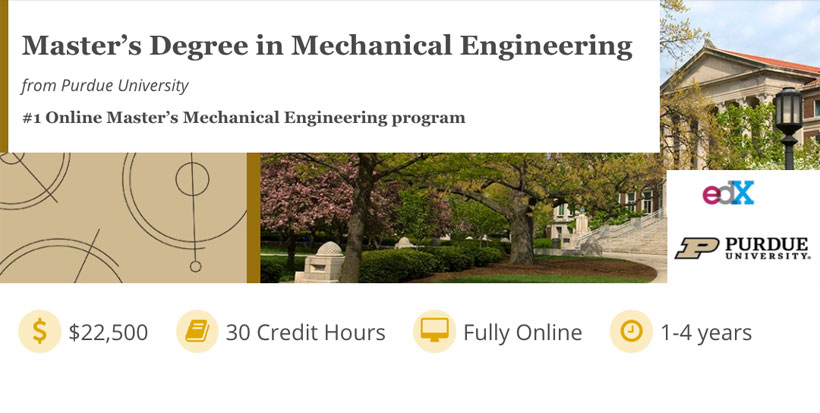 IBL News | New York
edX.org and the School of Mechanical Engineering of Purdue University announced this week the launch of a fully online Master's in Mechanical Engineering.
This online degree is the 12th fully online Master's degree available on the edX platform, and the second from Purdue. Purdue's online Master's in Electrical and Computer Engineering was announced in September 2019.
The program is ranked the #1 online mechanical engineering program, according to U.S. News & World Report.
edX and Purdue highlighted that "the learning experience is of equal quality and rigor to the on-campus experience, and is designed for working professionals."
"These new College of Engineering online degrees on edX are in line with increasingly loud demands for life-long learning opportunities that allow professionals to update and enhance their career skills," said Gerry McCartney, Executive Vice President for Purdue Online.
Priced at $22,500, the Master's in Mechanical Engineering, includes 30 credit hours and can be completed in 12 months or up to 4 years.
The degree enables the students to choose classes from a wide variety of topics in Mechanical Engineering, including:
Acoustics
Bioengineering
Combustion
Computational Engineering
Design
Fluid Mechanics
Heat Transfer
HVAC & Refrigeration
Manufacturing & Materials
Mechanics & Vibration
Nanotechnology
Robotics
Solid Mechanics
Systems, Measurement & Controls
"Purdue has a strategic goal of educating all types of students online, while quickly recognizing and responding to new types of learners with educational opportunities that meet Purdue's high standards and can be delivered at scale,"
Master's degrees on edX are unique because they are stacked degree programs with a MicroMasters® program component. A MicroMasters program is a series of graduate-level courses that provides learners with valuable standalone skills that translate into career-focused advancement, as well as the option to use the completed coursework as a stepping stone toward credit in a full Master's degree program. We will be announcing the MicroMasters program that stacks into the Master's in Mechanical Engineering in the near future.
Learn more about the application requirements and deadlines for the Master's in Mechanical Engineering.