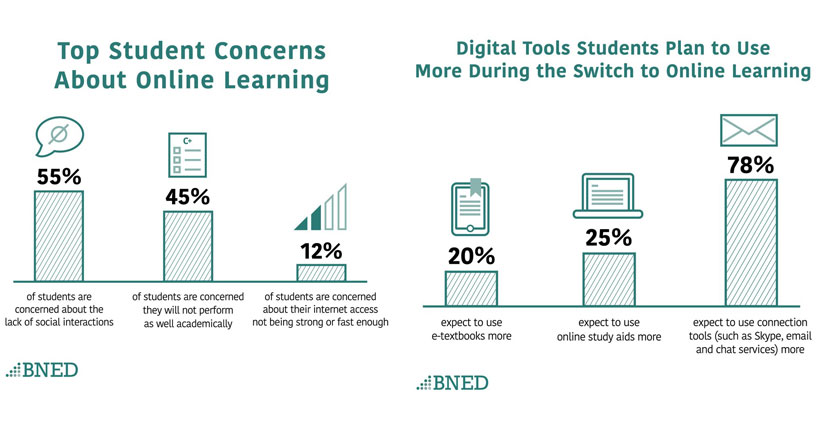 IBL News | New York
Most U.S. college students whose schools have recently made the switch to online learning, remain anxious about the new remote instructional environment. Many students are worried about their ability to adjust to learning completely outside of the classroom setting.
This is the main conclusion from a survey conducted by Barnes & Noble Education the week of March 23, 2020, among 432 college students across the U.S.
More than half (64%) of students expressed concern over maintaining focus and discipline, unsure if they would be able to motivate themselves over the long term to do work remotely. They noted "my house is not the proper environment in which to do work" and that they "easily get distracted while on the computer."
However, the survey found that 60% of students say they are technically prepared for the switch to online classes, while the rest are less certain, saying that they need time to adjust to the transition.
Over half (55%) of students said they were concerned about the lack of social interactions, saying they learn better when they are with their fellow students, and 45% of students are concerned they will not perform as well academically under these circumstances. A smaller percentage of students have technological worries, with 12% citing concerns about their internet access not being strong or fast enough.
"This abrupt change in lifestyle has also had social and emotional impacts on students, and many are grappling with how to succeed academically in the midst of this disruption," said Lisa Malat, President, Barnes & Noble College.
In addition to using digital learning platforms to view lectures, surveyed students are planning to use a suite of digital tools to continue their education online.
While the majority of students agreed that schools and instructors are prepared for the switch to online learning, 24% expressed doubts about their college or university's preparedness, and 33% expressed doubts about their instructors' preparedness.
"Communication is key in times of uncertainty. Frequent check-ins between professors and students can play a crucial role in maximizing online learning," said Malat. "Whether it's through video conferences or a simple phone call, holding regular 'office hours' can help keep students feel engaged and provide them with the additional support they need to navigate this transition."