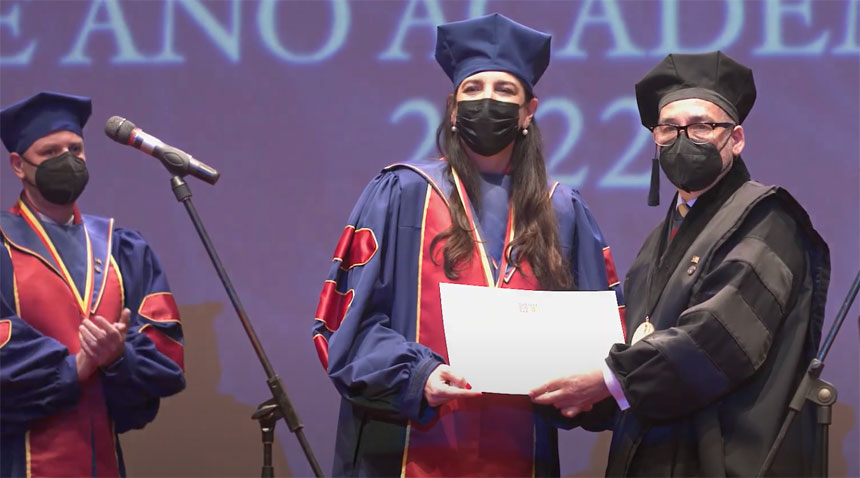 IBL News | New York
Lorena A. Barba, Professor of Aerospace Engineering at George Washington University (GWU), and a leading advocate of open source technologies in education, received a Doctor Honoris Causa from the 100-year history Universidad Técnica Federico Santa María, her undergraduate alma mater.
She is the second woman to ever be awarded a Doctor Honoris Causa in this institution, following Michelle Bachelet, the former President of Chile. Overall, seven individuals have received this honor—the university's highest recognition.
"I'm deeply moved," said Lorena Barba. "This is one of those moments in life that makes you reflect about your own history, about where you come from, and how you got where you are." The award was conferred on March 8 during a convocation ceremony that coinciding with International Women's Day.
"Professor Barba is not only an internationally recognized expert on scientific computing, with roles advising the nation via service in committees of the National Academies of Science, Engineering, and Medicine, but she has a long track record of innovation in technology-enhanced learning and open education," said SEAS (School of Engineering and Applied Science) Dean John Lach.
Barba is an expert in fluid mechanics, thermal science and energy, high-performance computing, and mechanical engineering.
She leads a research group in computational science and fluid dynamics, often crossing disciplinary borders into applied mathematics and aspects of computer science.
It's been two weeks since this beautiful day, but I'm still basking in the feeling of joy and appreciation. Thank you, @usantamaria, for the great honor! https://t.co/WTg3U9pkLc

— Lorena Barba (@LorenaABarba) March 24, 2022