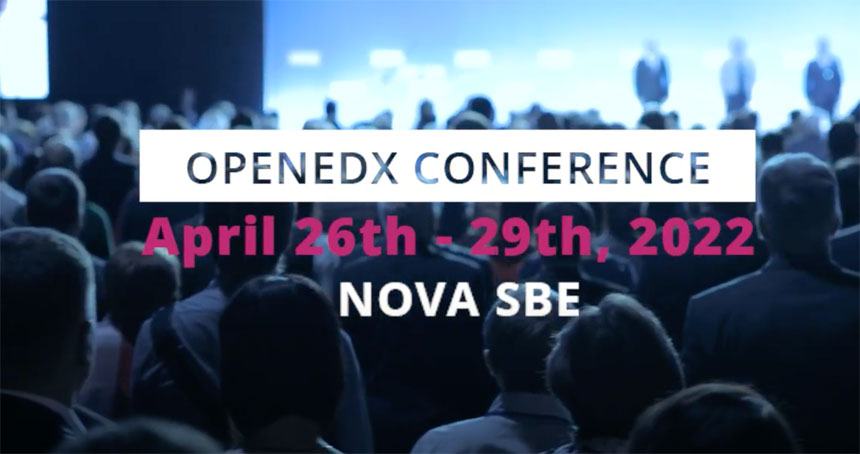 IBL News | New York
The Open edX organization, now called The Center for Reimagining Learning (tCRIL), announced this week the sessions, speakers, and sponsors for its upcoming 2022 Open edX Conference, scheduled for April 26-29, in Lisbon, Portugal.
The conference theme is "the future of work". Experts, practitioners, and participants will share ideas, solutions, and tools for up-skilling, re-skilling, and delivering life-long learning. There will be three thematic areas: Pedagogy & Instructional Design, Platform & Product, and Extensions & Integrations.
The opening keynote will be handled by Anant Agarwal, the Founder of edX and currently Chief Open Education Officer at 2U. The talk will be followed by Tobie Langel, Open Source Strategy Consultant, and Paula Marques, Executive Director for Business Transformation & Executive Education at NOVA SBE.
In addition, the organization highlighted the following sessions:
How assessment design can eliminate the need for digital proctoring. Mary Ellen Wiltrout, MIT
Learning on the job: 5 key lessons from creating next-generation workplace training products. Asad Iqbal & Faqir Bilal, Edly
2U's Learning Experience Framework (LXF). Ben Piscopo, edX/2U
An AI-powered skills infrastructure on the Open edX platform. Miguel Amigot, ibleducation.com
2U community introduction & roadmap contributions. Marco Morales, edX/2U
Open edX mobile: Product direction & development. Mian Khalid & Poornima Hanumara, edX/2U | Saeed Bashir, Arbisoft
Deep dive into LTI 1.3 in the Open edX platform. Giovanni Cimolin da Silva, OpenCraft
Course licensing with the Open edX platform. Diego Millan, eduNEXT; Scott Dunn, Pearson
Integrating the Open edX platform and Canvas: A new integration for Libraries 2.0. Daniel Seaton, MIT | Adolfo Brandes, tCRIL
The non-profit entity — controlled by MIT and Harvard University — behind the event stated that the goal is to "leverage the Open edX platform to expand access to education globally, in an effort to revolutionize the delivery of online education, within a world that is becoming more reliant on digital solutions." 
The conference sponsors will be OpenCraft, Construct Education, Edly, eduNEXT, Graspway, IBL Education, Annoto, Aulasneo, and Class Central.