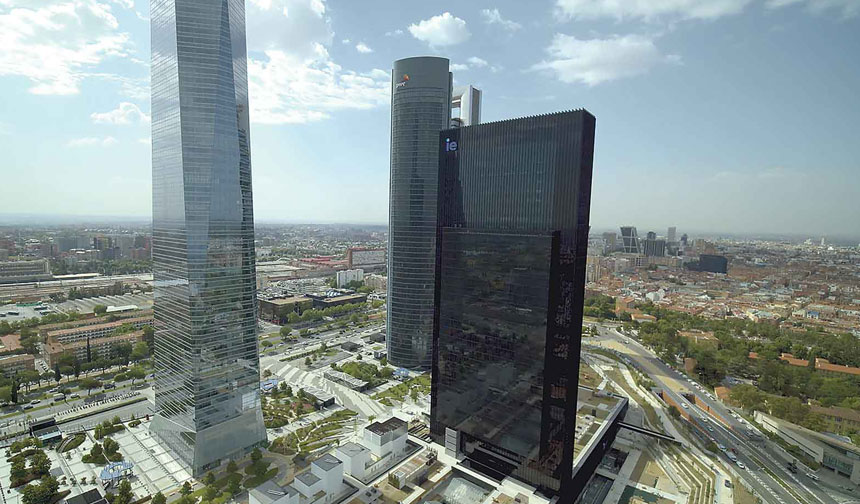 IBL News | Madrid, Spain
A private university in Spain opened this month campus in a skyscraper in Madrid, as shown in the picture. The inauguration took place last week.
IE University's new campus will host 3,800 undergraduate students in the IE Tower, a modern, high-tech, sustainable building that resembles, only in shape, the United Nations headquarters in New York.
The building looms large amid four other corporate skyscrapers populated by executives from PwC, KPMG, and other global corporations.
For IE University, a school that teaches in English and has been operating as a business school for over four decades, the 180-meter tall tower is a landmark achievement. Spain's national and Madrid's regional governments shared this view.
This building, visible all over Madrid, Spain, occupies 35 floors filled with 64 classrooms, 50,000 square meters, and 7,000 square meters of green space.
It includes exhibition halls, a creativity center, a sports zone with swimming pools, and even a meditation room. The classrooms are equipped with technology to simultaneously deliver face-to-face and online sessions.
The IE Tower expects to house 6,000 students within five years.
The owner of the IE University [in the picture below] is a prominent, well-connected to the Monarchy, Spaniard entrepreneur and art collector Diego del Alcázar, 71. He privately funded the school 48 years ago. Today his 37-year-old son, Diego de Alcázar Benjumea, operates as a Vice President.