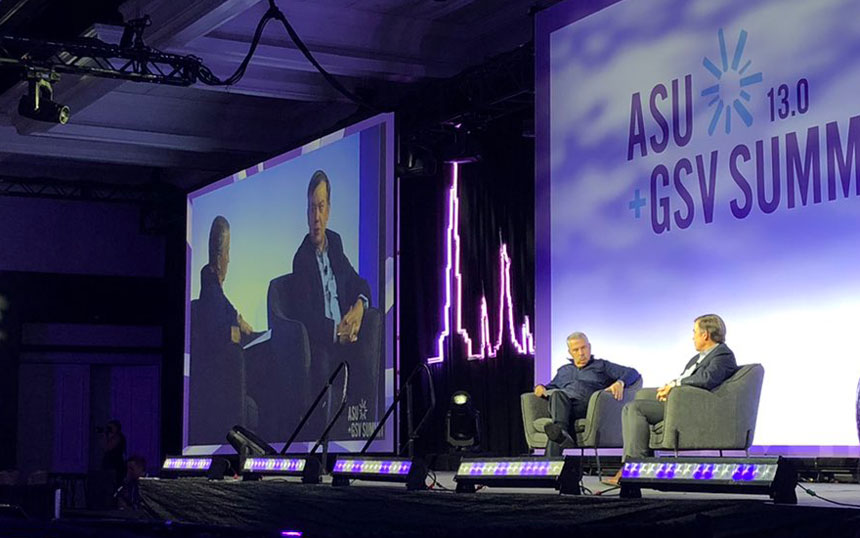 IBL News | New York
"At ASU (Arizona State University), we are creating an environment to prepare students to be master learners," said Michael Crow, President of Arizona State University, during the ASU+GSV Summit that kicked off in San Diego yesterday.
Education leaders, entrepreneurs, investors, and policymakers gathered for three days to dissect where the educational business is heading.
The 2022 ASU+GSV conference attracted 6,000 attendants, a record number of participants, through an edition well-organized and successfully executed.
The event included the 2022 GSV Cup Top 3, with three start-ups: Clayful, Collective Academy, and Kibo. Kibo was the winner, as disclosed during the closing party last night.
In a Q&A conversation with The New York Times columnist Tom Friedman, Michael Crow redirected the conversation on the future of education into the life-long learning scenario. "Now people will be learning all their life," he said.
"We need to change pedagogical design and add more tools. We need better ways to teach and learn. Universities need to figure out how to produce better teachers and students."
Regarding the value of degrees, Crow said, "we have to stop thinking of a college degree in the traditional sense, and we have to think of it as a learning moment on a pathway."
"It's a measurement of learning capacity rather than an achievement in itself. We have to move away from the notion of kindergarten through college, and then you're done with learning, and you go to work."
ASU started its School for the Future of Innovation in Society to address these issues, Crow said.
"We felt the university sector had missed the boat in trying to understand how to guide technology – not just the market forces, but the social complexities and the disruptive positives and negatives that are occurring."
Tom Friedman praised ASU's effort by saying that "you make education hot and cool."
Announcing the 2022 GSV Cup Top 3 – Clayful, Collective Academy, and Kibo!

Join us live for the finale this evening on StageX. #asugsvsummit https://t.co/jTja5nw60F pic.twitter.com/Fyly0oTa0Q

— ASU+GSV Summit (@asugsvsummit) April 6, 2022
The world's largest pitch competition for "Pre-K to Gray" #EdTech startups unfolds live today at #asugsvsummit. Join us at 4pm for the Elite 200 Demo Round-Robin followed by the Top 20 pitches on Stage X. https://t.co/2EQRK7ZCdB pic.twitter.com/1FHbJQhQD1

— ASU+GSV Summit (@asugsvsummit) April 5, 2022
That's a wrap on our time at @asugsvsummit! We are leaving San Diego invigorated by the ingenuity, passion, and collective will of this community to advance inclusive, ethical innovation and ensure powerful learning experiences for every learner. #ASUGSVSummit pic.twitter.com/Fcceyf2Dwu

— Digital Promise (@DigitalPromise) April 7, 2022
Plenty of takeaways to reflect upon, thanks everyone attending and presenting @ #asugsvsummit pic.twitter.com/tPEphRjYOi

— cyriloberlander (@cyriloberlander) April 7, 2022