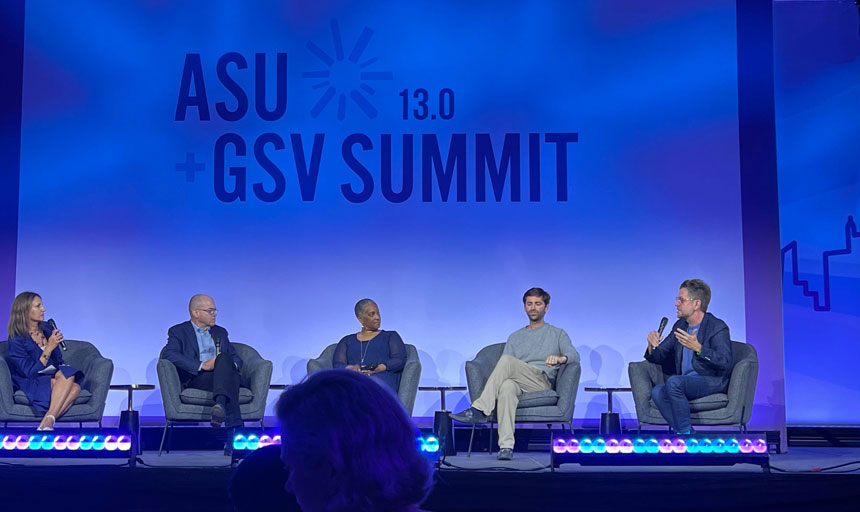 IBL News | New York
edX, now part of 2U Inc (NASDAQ: TWOU), will disclose this month ways to partner with refugee organizations and deploy resources to help displaced Ukrainian students. Chip Paucek, CEO at 2U, highlighted during a panel at ASU+GSV Summit that his company removed six Russian universities from edX.org. Simultaneously, he disclosed that "Ukraine is using Open edX as its national platform."
The Russian universities whose content has been removed, are ITMO University, National Research Nuclear University, MEPhL, National University of Science and Technology MISiS, Peoples' Friendship University of Russia (RUDN), and Ural Federal University.
In addition, Anant Agarwal, Chief Open Education Officer at 2U and founder at edX,  revealed in early March that edX was offering all Ukrainian colleges and universities, through the Ministry of Education and Science of Ukraine, free access to the edX Online Campus, with 1,600 online courses and programs.
He wrote then, "we are deeply troubled by Russia's unprovoked invasion of Ukraine and heartbroken by the escalating humanitarian catastrophe. This blatant and egregious violation of Ukraine's national sovereignty goes against all we stand for as an organization dedicated to the power of learning to elevate society and bring opportunity to every corner of the globe. We stand with the people of Ukraine and all those who urgently seek peace."
Last Wednesday, Chip Paucek participated, along with the CEOs of Wiley, DreamBox, and Course Hero, in a panel discussion around the topic of "Purpose and Profit." During this session [in the picture], he defended the idea of permanently developing a business strategy consistent with the educational mission of the company. "Every single day at 2U, the reason people wake up and come in is our mission, period – end of story," he said.
Mr. Pauce, who presented 2U as "the parent company of edX", stressed the idea that "it's about unlocking human potential."
"Every single day at 2U, the reason people wake up and come in is our mission, period – end of story," Co-Founder and CEO of 2U @ChipPaucek to a packed house at @asugsvsummit. 1/2 #asugsvsummit pic.twitter.com/eOBbnbSIAJ

— 2U (@2Uinc) April 6, 2022
It's so great to be back in sunny San Diego for this year's @asugsvsummit. Catch me on Stage X today with @atgrauer, @jessieww, @bnapack, and @RomyNYC. We'll talk purpose-driven performance and why we do what we do. 1/2 pic.twitter.com/8Sp58FAWJn

— Chip Paucek (@chippaucek) April 6, 2022
So many former @2Uinc employees are here @asugsvsummit doing so many interesting things. They are an incredible part of our history. In NFL terms, the coaching tree is pretty strong! I'm going to start a running tweet of them. Up first…@chrislaidley pic.twitter.com/kMP0mITTtF

— Chip Paucek (@chippaucek) April 5, 2022