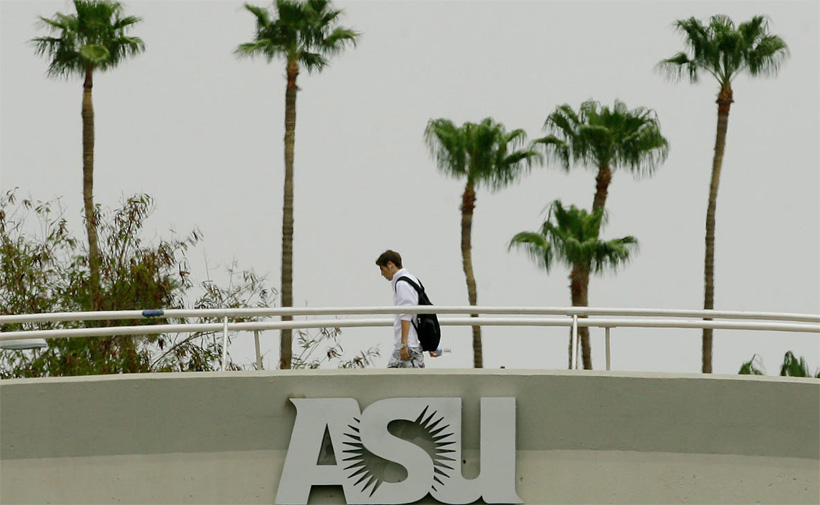 Mikel Amigot | IBL News, New York
ASU registered this week the first coronavirus case among universities in the nation. The institution is now trying to dispel all concerns, an Arizona State University's (ASU) top official told yesterday IBL News.
The case is creating a huge controversy in the ASU community, which has been on edge since the Arizona Department of Health Services announced on Sunday that someone at the school had been diagnosed with the 2019 novel coronavirus.
It's not clear if the patient involved— who recently traveled to Wuhan, the epicenter of the outbreak —  is a student, faculty or staff member, but school's officials noted the patient "does not live in university housing, is not severely ill and is currently in isolation to keep the illness from spreading."
In the days since, there's been a Change.org petition with over 24,000 signatures to cancel classes. "Until proper precautions have been taken to ensure the wellbeing of the students, such as disinfecting areas the student with Novel Coronavirus was present, ASU students want their classes canceled. (…) We do not want to risk our lives by attending class," reads the petition.
In addition, Asian students at ASU are saying that they are being treated differently facing xenophobic looks whenever they cough or sneeze. Surgical face masks have sold out at stores near campus.
ASU Provost Mark Searle on Monday said the school would not cancel classes."We have received many inquiries about university operations in light of this case. The university remains open and classes are not canceled," Searle wrote in an email to the ASU community, according to AZ Central. 
The news came after the University of Southern California (USC) was forced to respond following an erroneous social media-fueled claim that a student was diagnosed with the novel coronavirus.
George Mason University student cleared of coronavirus
On the other hand, test results for a George Mason University student who was being tested for the novel coronavirus have come back negative, the Virginia Department of Health said on Friday.
That person was identified by the university as an off-campus George Mason student who had been self-isolating while awaiting results.
University of Wisconsin, Miami University, NYU, Duke, UB
In addition, two undergraduate students from Wuhan, China, at the University of Wisconsin-Platteville were moved into a special dorm room and told to frequently take their temperatures.
Basketball games at Miami University in Ohio were postponed after two students reportedly showed possible symptoms.
NYU announced that it is delaying the start of the spring semester at its Shanghai campus until February.
Duke University has also postponed the start of the semester at its campus in Kunshan, China, until Feb. 17 and has restricted access to the campus.
University at Buffalo (UB), with about 1,500 students from China, sent an alert on Thursday with general advice on how to monitor their health. This warning happened after an official estimated that about half of those students traveled to China for winter break and returned before classes started Monday.
UB officials are now holding a press conference on precautions the university is taking reacting to the #coronavirus outbreak. There are no known cases at UB or in Erie County. @WGRZ pic.twitter.com/Mio1a9j3M1

— Jeff Preval (@PrevalWGRZ) January 30, 2020
Anxiety on Campuses
It is expected that given the fact that college campuses can be grounds for infectious diseases, university officials will be prompted to take urgent measures.
Regarding this anxiety in classes and dorms, TheNew York Times elaborated today a report about how the fear of the Coronavirus is coming to U.S. colleges.
• IBL News: International Education Will Be Disrupted by the Coronavirus Travel Ban, NAFSA Says