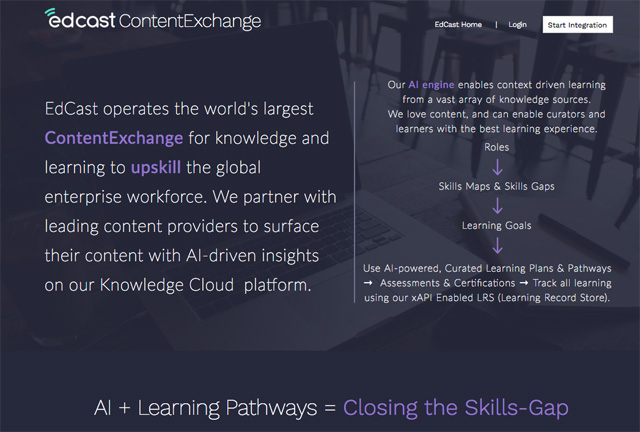 EdCast, a Mountain View-based educational platform start-up, has redefined its commercial focus, transitioning from an Open edX hosting company into a knowledge cloud solution for workforce upskilling, and launched a marketplace for corporate learning content providers called ContentExchange.
According to the company, partners in this marketplace include edX.org, Regis Group, Harvard ManageMentor, Mandel Communications, Intuition and Capella University, among others.
ContentExchange uses an AI-powered engine to maximize the relevance and timeliness of content.
Regarding the participation of edX, Lee Rubenstein, Vice President of Business Development at edX, said: "edX is proud to be one of EdCast's ContentExchange partners, making our unique library of valuable content available to the marketplace, so we can continue to provide innovative solutions in meeting corporate learning needs."
"We launched the ContentExchange to provide a marketplace for leading global organizations to upskill their team members, allowing them to discover and connect with leading content providers from around the world," said Karl Mehta, Founder and CEO of EdCast.