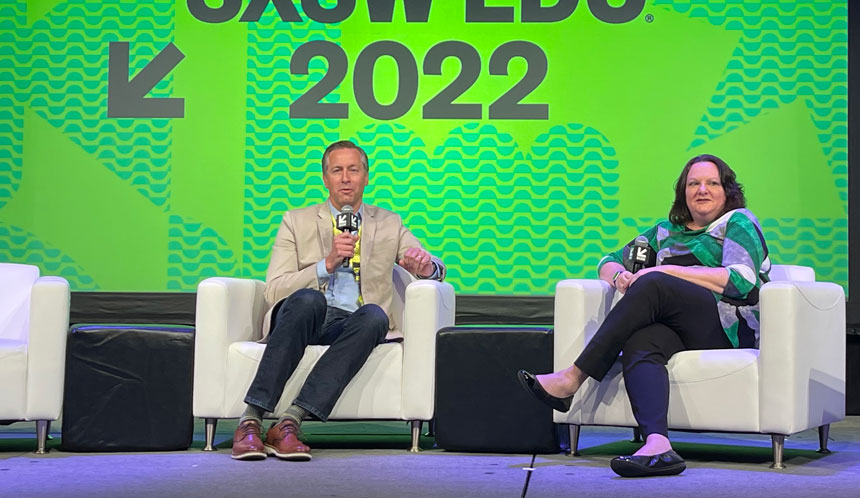 IBL News | New York
"One-third of employees are shifting their hiring practices into skills," said yesterday Scott Pulsipher, President of WGU (Western Governors University) during a sat down interview conducted by JFF's CEO, Maria Flynn, at the SWSW EDU conference in Austin, Texas.
The panel titled "The Edges of Learning & Work" explored promising innovations in workforce education along with their potential for equity.
Scott Pulsipher pointed out that his institution's challenge is based on "how to enhance technology to improve the quality of curriculum design." "It's about how to better invest in technology to improve outcomes for students," he added.
Mr. Pulsipher insisted on the idea of mapping skills and geo-locating them. "WGU has been at the forefront of innovation with its competency-based model," said Maria Flynn.
SXSW EDU Launch and Student Startup Competitions' Winners
During the same SXSW EDU event — which concluded yesterday — organizers announced the winners of the 2022 Launch and Student Startup competitions.
In the first competition, the award winner was the Pala Indian Reservation, California-based Our Worlds, Inc. This company provides place-based, primary source, educational content about Native Americans in Extended Reality 360 degrees across the world.
The six finalists pitched innovations ranging from platforms supporting emotional literacy education to speech AI.
The Student Startup Competition winner was AUesome, based in Sunnyvale, California. This company was selected for its work to make therapy more accessible and affordable for children on the autism spectrum.