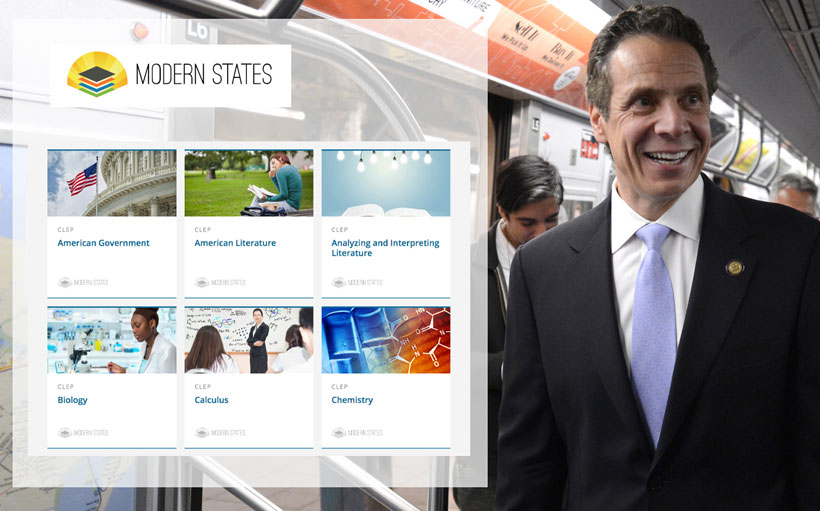 IBL News | New York
SUNY Empire State College will offer the full library of free online college courses and materials of ModernStates.org at no cost to students of the state of New York and as an opportunity to earn up to full year of college credit tuition-free.
This initiative was announced this Thursday by New York's Governor Andrew Cuomo as part of his 2020 Making Progress Happen's agenda and a result of a partnership between SUNY and ModernStates.org, creator of the so-called "Freshman Year for Free" program.
In addition to the unlimited free use of courses, Modern States Education Alliance– New York-based nonprofit organization, that manages the ModernStates.org educational portal–announced that it will also cover the cost for up to 1,000 credit-bearing exams for all students, especially New York veterans, and active-duty military families.
Students who complete one or more Modern States online college courses and pass a CLEP (College Level Examination Program) exam will earn credit through SUNY Empire State College. The credits earned will be transferable to other SUNY schools. SUNY Empire students will be able to access the Modern States program through a cobranded web portal.
"This partnership offers real savings — for every free course and exam passed, students and their families can save $1,000 to $2,000 in college costs," said SUNY Empire State College President Jim Malatras.
Launched in August 2017, the ModernStates.org program has more than 180,000 registered users to date and has paid for approximately 30,000 exams for New Yorkers and students around the world.
The organization uses a highly customized learning ecosystem built on Open edX by IBL Education –the parent company of the IBL News nonprofit media service.
Available courses –also designed by IBL Education– include American Government, American Literature, Chemistry, Physics, College Algebra, Accounting, Spanish and many others. These online classes are taught by college professors in all 33 subjects for which there is a credit-bearing CLEP exam from the College Board, the same organization that offers the SAT and AP tests.
Students can take one course or many. The pass rate of students who use ModernStates.org to prepare for a CLEP exam is 73 percent, well above the national average, according to data provided by the organization.
In addition to paying the $89 CLEP exam fee, ModernStates.org reimburses students for test center fees, typically $25.
More than 2,900 colleges and universities accept CLEP for credit, including major universities such as Ohio State, University of Wisconsin, Penn State, Texas State, Morehouse, and others.
SUNY Empire currently offers more than 800 online courses, supported by more than 30 campuses and learning hubs across New York state and the world.