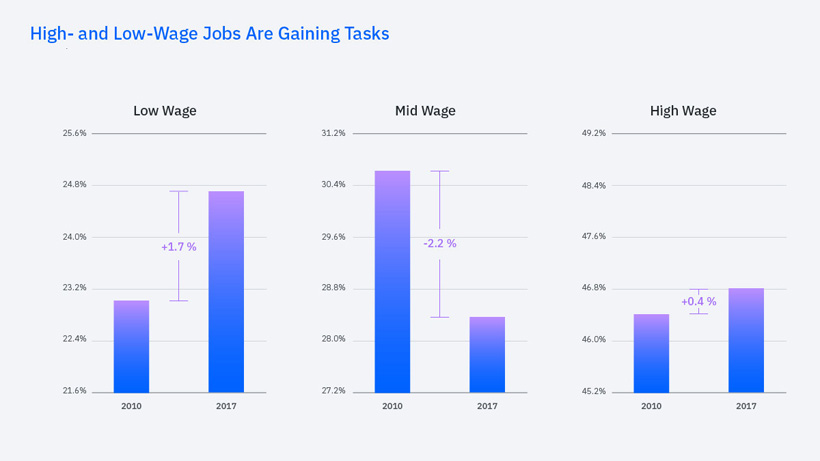 IBL News | New York
After analyzing 170 million job posts over seven years, MIT and IBM Watson researchers found that all of the jobs will eventually change slowly due to Artificial Intelligence and new technologies. What will fundamentally change is the way we work. However, few jobs will actually disappear.
The research, The Future of Work: How New Technologies Are Transforming Tasks, shows that people in the middle of the wage scale will get squeezed the most in the short-term as tasks shift to both lower and higher-paid workers.
"Understanding the impact of automation will help governments, companies, and workers prepare", said Martin Fleming, chief economist at IBM and lead author of the report.
The consensus points to the fact that workers will need to adapt by learning or honing skills that require innovation, creative thinking, or deep insight and experience. Meanwhile, employers across all industries should begin to focus on reskilling their workforces, redesigning job roles and supporting career advancement.
When looking at the impact of AI and machine learning, another key finding shows that soft skills will be increasingly required.
"As technology reduces the cost of some tasks, the value of the remaining tasks that make up an occupation increases," said MIT-IBM Watson AIl Lab researchers. "Tasks that are grounded in intellectual skill and insight as well as require, to some degree, physical flexibility, common sense, judgment, intuition, creativity, and spoken language have tended to increase in value."
These findings align with the recent IBM Institute for Business Value (IBV) study, The Enterprise Guide to Closing the Skills Gap, which reported the two top skills sought in 2018 were behavioral skills – time management and willingness to be flexible, agile, and adaptable to change.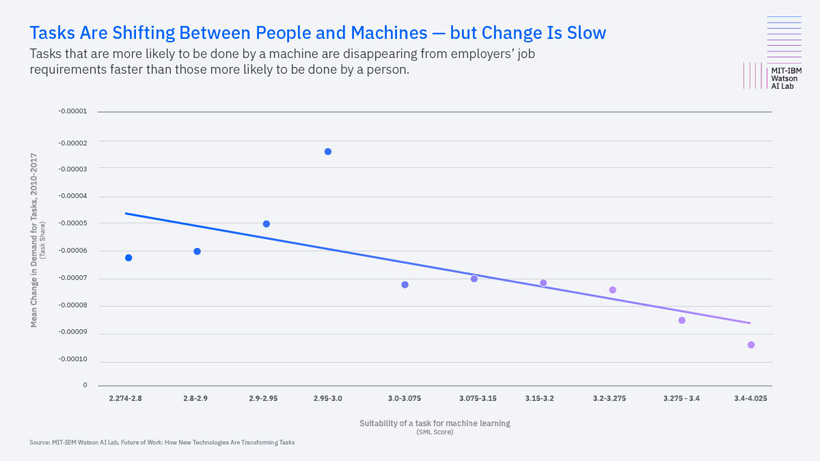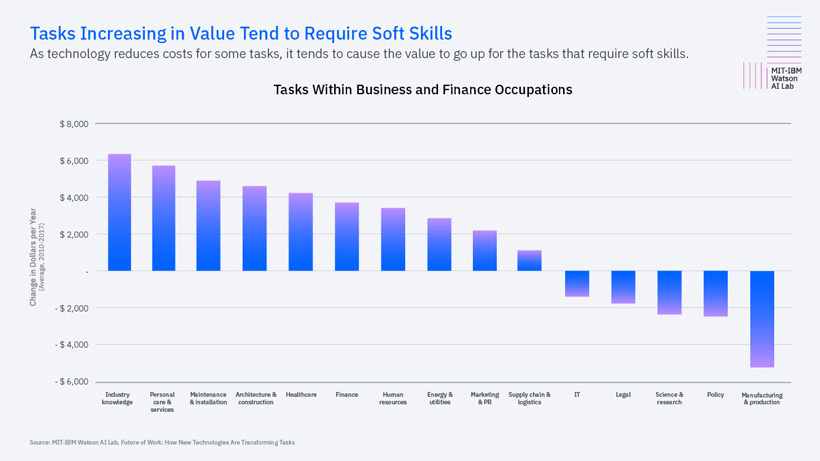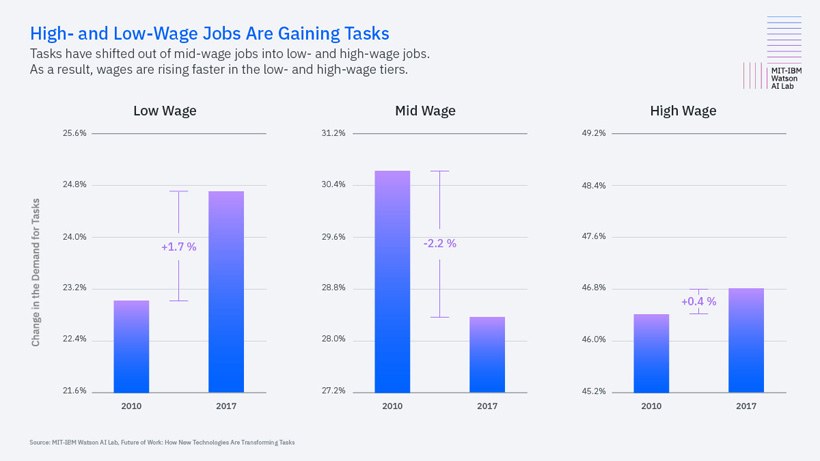 Along with the research, IBM announced several education initiatives to help students, workers, and life-long learners and address the skills gap problem:
P-TECH: A public-private partnership among high schools involving more than 75 community college partners and 600 industry partners. Over twenty-three countries — including France, Australia, and Taiwan – have announced the intent to open P-TECHs or have already opened P-TECHs. The goal is to prepare students for "new collar" jobs –such as cloud computing or cybersecurity analysts–which are skilled, technology positions that don't necessarily require a traditional, four-year college degree;
Apprenticeships: In partnership with the U.S. Department of Labor, the 12-24 month program pairs apprentices with an IBM mentor to work on IBM projects, along with traditional classroom learning, in technology's fastest-growing fields;
Returnships: A six-month program created to make rejoining the technology industry easier for people who have been out of the workforce for at least 24 months;
SkillsBuild: A new digital learning and education platform that provides job seekers – including those seeking employment, returning to work after leave, veterans, refugees, or those changing professions – with accredited digital learning content, personalized coaching, and practical learning experience to help them re-enter the workforce successfully; and
STEM Career Training for Women: Programs around the globe to help girls earn a strong STEM foundation, and initiatives to help women enter the technology sector.