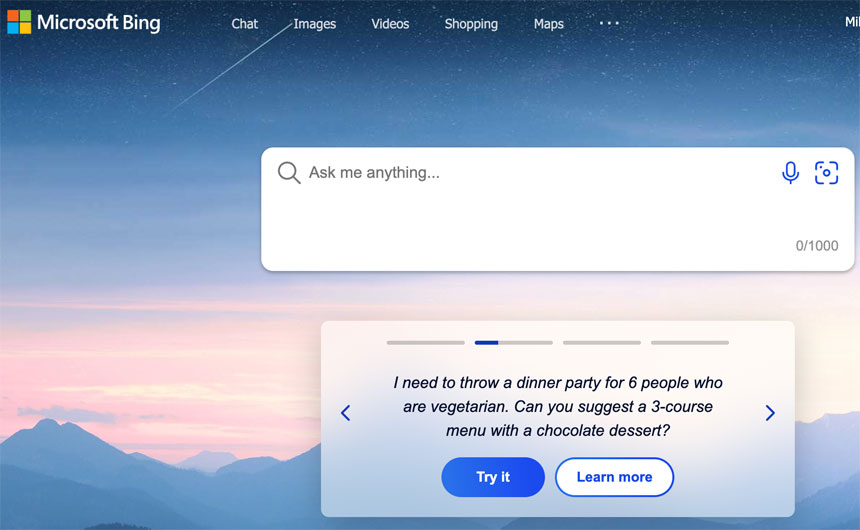 IBL News | New York
Microsoft announced in a press conference yesterday new AI-powered features on its Bing searches engine and Edge browser.
The new version of Bing is available to try in a limited preview mode.
Microsoft said it's using conversational AI to create a new way to browse the web.

The search engine is powered by ChatGPT and GPT-3.5, according to OpenAI CEO Sam Altman (as shown in the picture below). He took the stage momentarily during the presentation event, as shown on the video of the announcement, which was not live-streamed.
This means that the new Bing can answer questions with lots of context, similar to the way ChatGPT does. It allows users to chat to Bing like ChatGPT, asking questions and receiving answers in natural language.
The company said a waitlist will be available for the full version of Bing in the coming weeks. It also plans a mobile version of Bing.
"It's a new day in search," said Microsoft CEO Satya Nadella. He argued that the paradigm for web search hasn't changed in decades, but AI can deliver information more fluidly and quickly than traditional methods.
"The race starts today, and we're going to move and move fast," Nadella said. "Most importantly, we want to have a lot of fun innovating again in search, because it's high time."

The company showed various configurations. One of these displays traditional search results side-by-side with AI annotations, while another mode lets users talk directly to the Bing chatbot, asking it questions in a chat interface like ChatGPT.
Unlike ChatGPT, the new Bing can also retrieve news about recent events.
Microsoft says these features are all powered by an upgraded, more powerful version of GPT 3.5, which it calls the "Prometheus Model."
Later, Microsoft will bring its AI-powered chat features to all browsers, starting with Microsoft Edge.
Edge browser will embed within its sidebar "chat" and "compose." "Chat" will let users ask questions about the document or webpage they're looking at, while "compose" acts as a writing assistant, helping to generate text, from emails to social media posts, based on a few starting prompts.