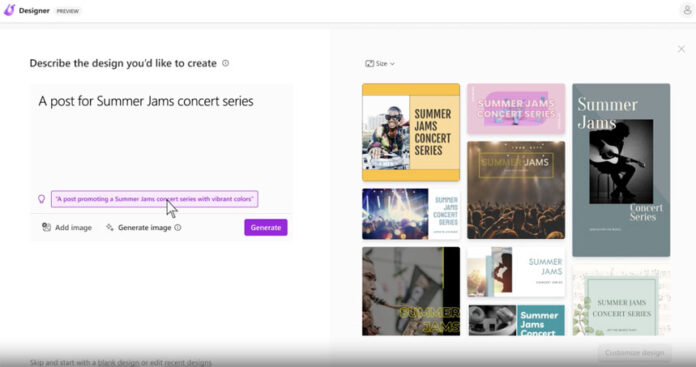 IBL News | New York
Designer, Microsoft's AI design web tool, launched in public preview with an expanded set of features last week.
This Canva-style app can generate designs for presentations, posters, postcards, invitations, and graphics for social media.
It uses AI-generated texts and images (through DALL-E 2) to ideate designs with drop-downs and text boxes.
Designer can also generate written captions, hashtags for social media posts, layouts, and animated suggestions with backgrounds.
Upcoming features include replacing or erasing backgrounds, people, or backdrops.
"It's like having photoshoots on demand, anywhere you want to be," said the company in a blog post.
"Sometimes there's just that one little thing in the photo that keeps it from being completely perfect. Designer makes it easy to zap one little thing like it was never there."
Designer is available through its website and Microsoft's Edge browser through the sidebar.
For now, during the preview period, it's free; later, it'll be included in Microsoft 365 Personal and Family Subscription.
Microsoft said that users will have "full" usage rights to commercialize the images they create.
.