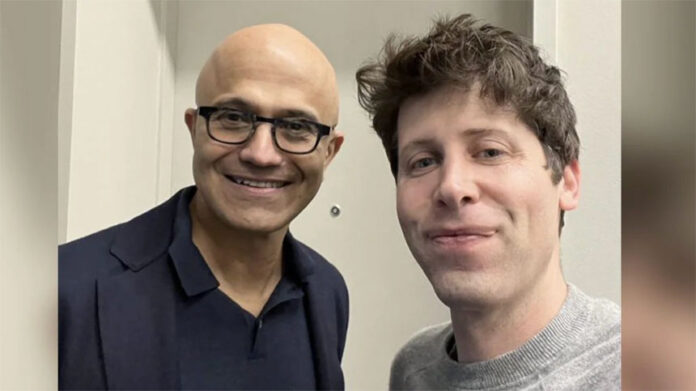 IBL News | New York
In another major shakeup, Microsoft announced through its CEO Satya Nadella on Monday that he hired OpenAI co-founders Sam Altman and Greg Brockman to lead up a new AI research team.
This move took place after three days of intense discussions following the unexpected decision by OpenAI's board to fire Sam Altman. Brockmann quit as OpenAI president after Altman was fired.
Meanwhile, the OpenAI board appointed former Twitch chief executive and co-founder Emmett Shear as its interim chief executive. He replaces Mira Murati, who was named interim CEO when Altman was fired. She will return to her role as OpenAI's chief technology officer.
"We look forward to getting to know Emmett Shear," Microsoft CEO Satya Nadella said in a post on X, formerly known as Twitter. "And we're extremely excited to share the news that Sam Altman and Greg Brockman, together with colleagues, will be joining Microsoft to lead a new advanced AI research team."
Sam Altman will serve as the CEO of the new AI group at Microsoft, which is OpenAI's biggest financial backer after the giant invested over $10 billion and acquired almost 50% ownership.
"We've learned a lot over the years about how to give founders and innovators space to build independent identities and cultures within Microsoft, including GitHub, Mojang Studios, and LinkedIn, and I'm looking forward to having you do the same," Nadella said.
Former OpenAI top talent Szymon Sidor, Jakub Pachocki, and Aleksander Madry will join Microsoft with more to follow, Brockman said in a post on X. 
Numerous prominent business leaders and investors warned that without Altman's leadership, OpenAI may struggle to maintain its current pace of progress.
"The mission continues," said Altman following Nadella announcing that the 38-year-old entrepreneur had joined Microsoft.
Microsoft's move comes after a tumultuous weekend that saw an unsuccessful attempt by the OpenAI board, its investors and team members to make the entrepreneur return to the startup.
"We remain committed to our partnership with OpenAI and have confidence in our product roadmap, our ability to continue to innovate with everything we announced at Microsoft Ignite, and in continuing to support our customers and partners. We look forward to getting to know Emmett Shear and OAI's new leadership team and working with them," Nadella added.
A number of OpenAI top talent, including CTO Mira Murati, on Monday protested the OpenAI board's decision, which has prompted many talents to leave the firm. "OpenAI is nothing without its people," the tweets said.
I'm super excited to have you join as CEO of this new group, Sam, setting a new pace for innovation. We've learned a lot over the years about how to give founders and innovators space to build independent identities and cultures within Microsoft, including GitHub, Mojang Studios,…

— Satya Nadella (@satyanadella) November 20, 2023
Satya nadella and Microsoft is the real winner. pic.twitter.com/RrPguiPhBy

— AshutoshShrivastava (@ai_for_success) November 20, 2023
❤️❤️❤️ https://t.co/NL3nqrjKUo

— Sam Altman (@sama) November 20, 2023