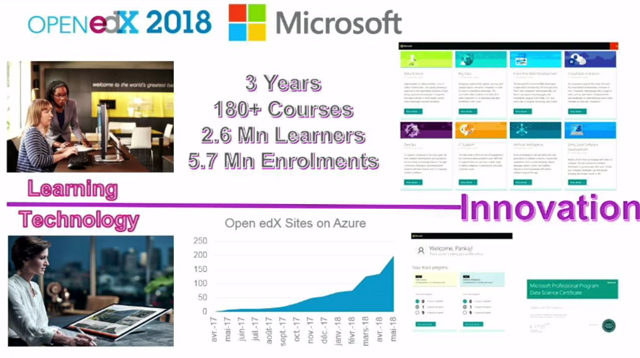 Microsoft has become the largest private publisher of courses on edX.org, with 180+ courses and 2.6 million learners; all of it within a period of three years.
Courses include a program in AI, and are mostly oriented toward professional development. This effort fits with Microsoft's educational mission of democratizing learning and bringing it to the masses. From a business perspective, its main goal is to promote Azure cloud services.
163 OPEN EDX SITES HOSTED ON AZURE
Microsoft, who joined the edX consortium in 2015, claims that 10 % of the Open edX-based instances – namely, 163 – are hosted on Azure. One of its main instances is Global Knowledge, who partnered in 2017 with IBL Education to deploy its ecosystem. By the end of this year, the software corporation expects to reach 200 instances on Azure.
Additionally, the Redmond-based giant launched in April 2017 a "Learning as a Service (LaaS)" partnering program, which was introduced by three Microsoft managers during the recent 2018 Open edX conference in Montreal. This initiative is mainly based on providing partners (100 so far) with free course content, which they use to enhance their private instances.