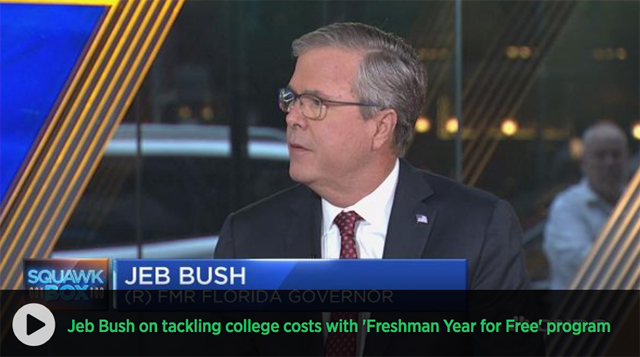 Former Florida Governor and Chairman of the Foundation for Excellence in Education, Jeb Bush, reaffirmed in an interview with CNBC with CNBC that college is a valuable investment and primarily suggested the Open edX-based "Freshman Year for Free" program, which is a part of the New York non-profitModern States Education Alliance.[Disclosure: IBL Education developed the CLEP courses along with the Open edX platform.]
This initiative, founded by New Mountain Capital CEO Steve Klinsky and directed by former journalist David Vise, helps learners study for CLEP exams (administered by The College Board) and access college for free.
"The idea is to accelerate this and make freshman college for free as one step among many steps I think that governors can do," said Mr. Bush. "This is a cheap date when you think about it. This is a really low-cost way to save millions of dollars for families that are struggling right now."
It costs $85 to take a CLEP test while the average cost of a college course is $594. Modern States is also paying exam fees for the first 10,000 test takers, enabling students anywhere to earn up to a full year's worth of credit for free.
Students can also use edX's MicroMasters programs to take a series of series of graduate level courses with a specialized career pathway.
I don't always do morning TV, but when I do, I prefer @SquawkCNBC, one of the more civilized members of the fourth estate. @CNBC @modernstatesed @excelined https://t.co/9hSYTxkLpB

— Jeb Bush (@JebBush) June 7, 2018
60,000 Registered Users on ModernStates.org

In addition to this appearance on CNBC, Jeb Bush wrote an article with Steve Klinsky on RealClearPolicy.com titled "How Governors Can Give All Students 'Freshman Year for Free'". These are some excerpts:
"If you're a governor, state education leader or a parent looking at paying the high cost of college, this message is addressed to you." (…) "For $85 per CLEP exam, far less than the cost of tuition for college credits, governors across the country can enable students to take a CLEP test for free and earn college credit. The fee for the exam is small compared to the $1,782 cost of a typical course at a public university, and can provide a path to higher education for thousands of students who face the choice between not going to college or taking on massive debt."
"For perspective, helping 100,000 state residents pass 100,000 course exams would only cost a state $8.5 million — a fraction of a state's education budget — and probably save the state far more in taxpayer-subsidized alternatives or safety net programs. States could also encourage its use in high schools by including passage of Advanced Placement or CLEP exams in their high school accountability systems and providing financial incentives to school districts when students earn college credit through these and other college credit options."
"Modern States has gained more than 60,000 registered users since it launched in August 2017, and its student passing rate on CLEP exams has well exceeded the 70 percent national average. High schoolers, working parents, military personnel, and Dreamers, to name a few, are all benefitting from this innovation."