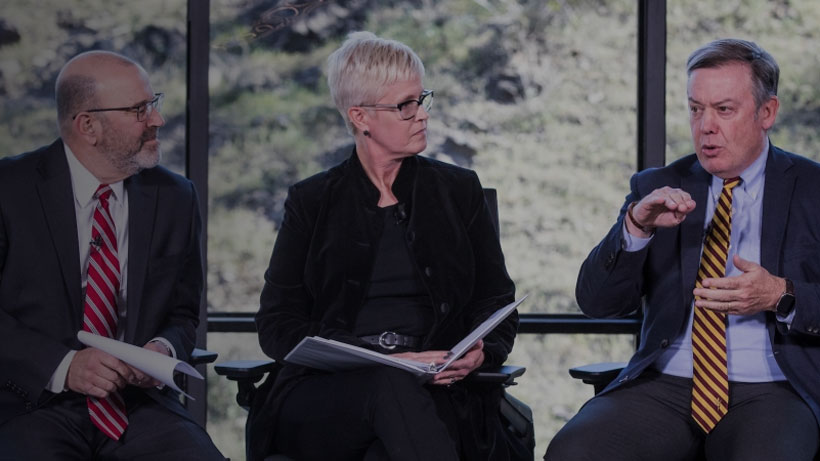 IBL News | New York
State Farm is teaming up with Arizona State University (ASU) to launch an online educational and career development program called Pathways for the Future. To fund the program and scholarships, the insurance giant is providing ASU with a $30 million contribution.
Officials from both organizations announced the public-private partnership initiative on Tuesday on the ASU campus, in Tempe, Arizona.
The program, reflected on a new website, has four components: an online academic program, financial support, tools for success, and career coaching.
Students start by earning online credits in one of three academic tracks: STEM, business leadership, or humanities and social sciences. These tracks will lead to an associate degree, undergraduate degree or undergraduate certificate. Typically, a three-credit online course would cost approximately $1,500.
For the university, one goal of the program is to increase degree completion by preparing students to enroll in the Ira A. Fulton Schools of Engineering, the W. P. Carey School of Business, The College of Liberal Arts and Sciences, along with other units across ASU.
The program targets four groups:
High School Students
Maricopa County Community College Students

Arizona State University

 Students
Employees, already in the workforce, wanting to learn new skills, including State Farm employees
"Here we have a company that's thinking differently; this investment is looking at each aspect of what we do: Let's eliminate the financial barrier; let's build some tools that help us to greatly accelerate who goes to college," said ASU President Michael M. Crow [In the picture on the right]. "It's not only about money but it's about ways to overcome barriers."
"Today represents a new milestone in our relationship with ASU and builds on our corporate commitment to prepare not only for what's coming but for what is already happening," said State Farm Chairman and CEO, Michael Tipsord. "We look forward to growing this commitment with ASU and working together to build the workforce of the future through universal learning."
• ASU Now: State Farm, ASU announce partnership on Pathways for the Future initiative