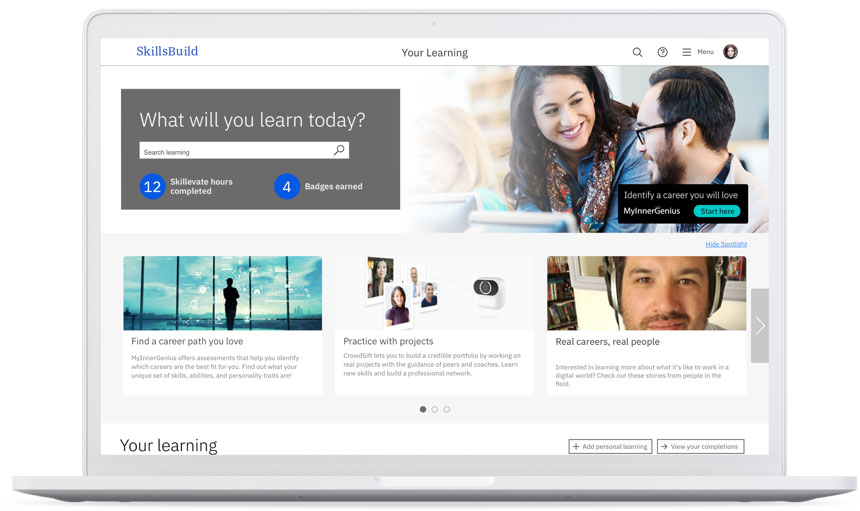 IBL News | New York
IBM (NYSE: IBM) announced this month a global project, in collaboration with 30 governments, community colleges, non-profits, and employment agencies, to improve the skills and employability of underserved populations — such as veterans, women, minorities, refugees, and unemployed young adults.
This initiative is part of the IBM SkillsBuild program to skill 500,000 people by the end of 2021.
The program is designed to empower job seekers within 3-6 months with professional workplace readiness and technical skills, earn badges and credentials and provide personal mentoring.
"Closing the global skills gap is one of the most pressing issues of our time," said Arvind Krishna, IBM, Chairman and CEO. This accomplishment would add $11.5 trillion to global GDP by 2028, according to the World Economic Forum.
"70% of employers can't find the skills they need for roles like data analytics, software development and remote customer service," said Jonas Prising, ManpowerGroup Chairman & CEO.
Those 30 global organizations are ActionAid Italia Onlus, The American Indian Foundation Trust, Andhra Pradesh State Skill Development, Argencon, Bay Area Community College Consortium (BACCC), Bruxelles Formation, Cité des Métiers, CSC Academy, CSRBOX, Edunet Foundation, Fondazione Human Age Institute, Fundación Konecta, Junior Achievement Americas, Junior Achievement Italy, Laboratoria, Mission Locale de Paris, Reacha Foundation, Tata Community Initiatives Trust, The Royal Alberta College, Technifutur, Technology Ireland ICT Skillnet, Training Point, Turkish Industry & Business Association (TÜSİAD), Unnati Foundation, Uvi Jagriti Sansthan, VetsinTech, Jeevitam-VSS Tech Solutions Pvt Ltd, Workforce Development Inc., and 60 000 rebonds.
Workforce solutions company ManpowerGroup will also partner with IBM to connect these job seekers to career opportunities.