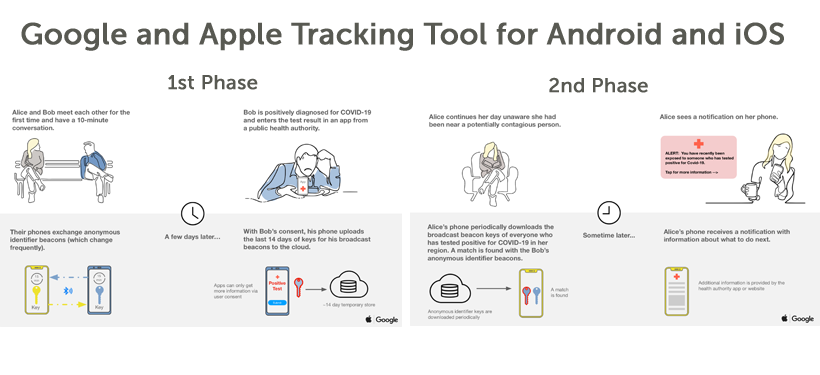 Mikel Amigot | IBL News, New York
Google and Apple teamed up to develop a system for tracking the spread of the COVID-19, which will encourage users to share data through Bluetooth and approved apps from public health organizations.
These apps would exchange anonymous identified data with other participating phones.
If the user voluntarily reports having tested positive for the virus, the app then alerts those phones' owners that they may have been exposed.
Experts explain that tracking is key to testing and self-quarantining yourself to avoid infecting others. But in the U.S. and the Western world, there isn't a widely-used tracking tool, mostly due to privacy concerns. South Korea and Singapore have used similar COVID-19 tracking apps, although way more privacy-invading. These apps have been key to their success in containing the disease within these two countries.
Apple's and Google's system was announced on Friday and was laid out in a series of documents and white papers.
To be successful, the system will need to be widely adopted. The user would need to give explicit consent. In addition, tests will need to be available for all potentially infected people –although today there is still a shortage.
Privacy and civil liberties activists have warned that the apps need to be designed so governments cannot abuse them to track their citizens.
President Donald Trump called the technology "very interesting," but expressed concern that "a lot of people worry about it in terms of a person's freedom. We're going to take a look at that."
Apple and Google said that user privacy and security are baked into the design of their plan.
This is how the system works, according to Google: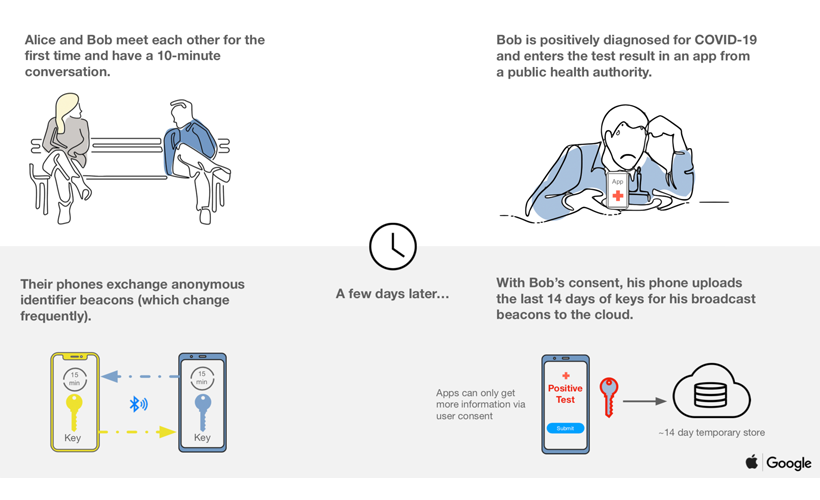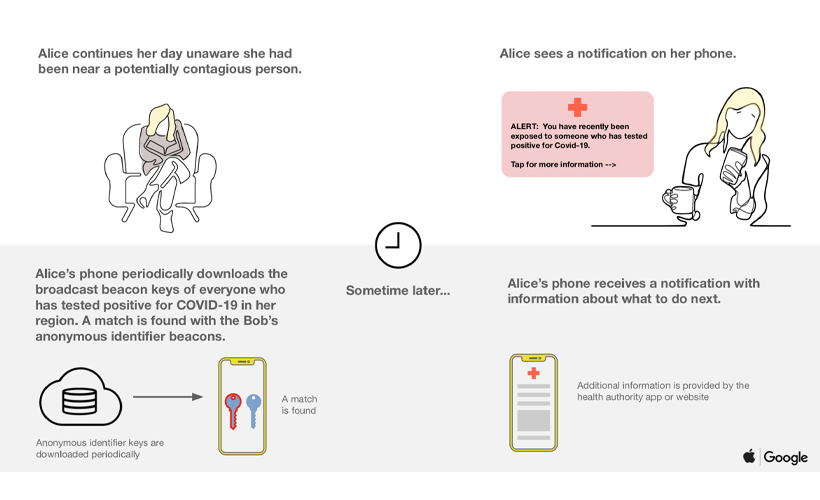 To help public health officials slow the spread of #COVID19, Google & @Apple are working on a contact tracing approach designed with strong controls and protections for user privacy. @tim_cook and I are committed to working together on these efforts.https://t.co/T0j88YBcFu

— Sundar Pichai (@sundarpichai) April 10, 2020
Contact tracing can help slow the spread of COVID-19 and can be done without compromising user privacy. We're working with @sundarpichai & @Google to help health officials harness Bluetooth technology in a way that also respects transparency & consent. https://t.co/94XlbmaGZV

— Tim Cook (@tim_cook) April 10, 2020
• The Verge: Apple and Google are building a coronavirus tracking system into iOS and Android
• AP: Apple, Google to harness phones for virus infection tracking