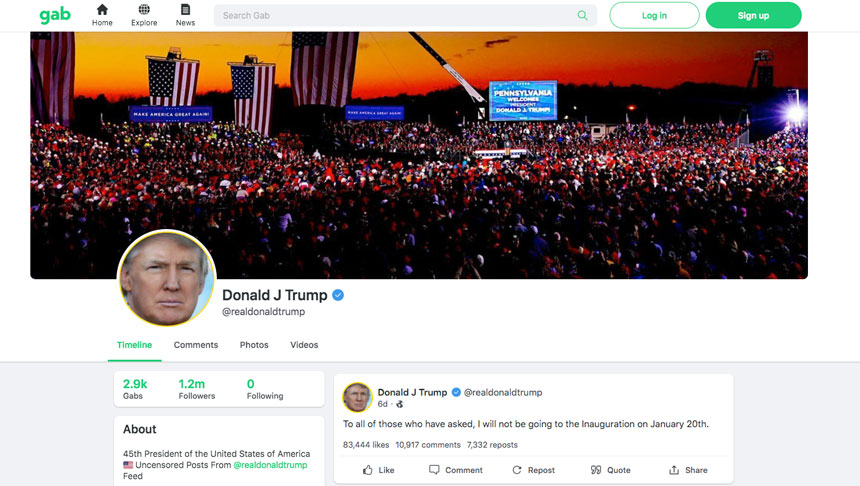 IBL News | New York
Gab.com—one of the alternative social media sites, along with MeWe and Rumble, is attracting hundreds of thousands of Trump supporters. This week, started to face increased scrutiny from pro-Biden organizations.
The Anti-Defamation League (ADL) called for the Federal Government to investigate Gab and its CEO and Founder, Andrew Torba, to determine its role in the U.S. Capitol assault. "Gab intentionally served as a forum for people to plan, coordinate, engage in, or otherwise facilitate the criminal activity that took place on January 6," ADL argued.
Andrew Torba denied any culpability in the attack and insisted that his "free-speech platform" did a "phenomenal job" of mitigating violent content in the weeks prior while reporting to law enforcement about it.
"We've been removing this stuff for weeks and weeks, working 18 to 20 hours a day to make sure no illegal activity, no threats of violence are happening on Gab," said Torba. "There's a difference between lawful First Amendment-protected speech and violence, which we have always had no tolerance for," he added. "I'm not going to censor lawful First Amendment-protected speech."

The shutdown of Parler—which went offline after AWS dumped the platform from its cloud system—has significantly benefited Gab, MeWe, and Telegram.
Gab reported 1.7 million new users in the past four days and 52 million visits in the past week. Gab has built its own web browser, servers, social network, and payment processor, to avoid any potential crackdown from "Big Tech".
This surge in traffic is resulting in timeout errors and website inaccessibility.
Gab's CEO Restores the Tweets of President Trump Deleted by Twitter
In addition, the Gab CEO and Founder saved a backup file of all of the contents from the President's Twitter account before it got blocked from this platform. He then put the recreated version on Gab's platform, including all comments. Trump's videos from other platforms had their space on Gab, as well.
Meanwhile, MeWe said it has added 400,000 users every day since Saturday and now has more than 14 million members. Now, MeWe ranks as the fifth most popular free app on Apple's App Store and Google Play this week. It has 100 content reviewers who examine posts on its platform.