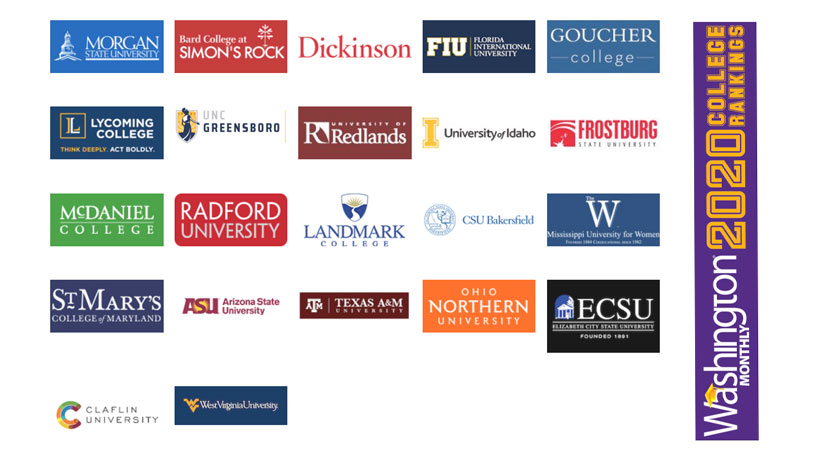 IBL News | New York
Despite the pandemic outbreak, college ranking tradition goes on.
Last week, Washington Monthly released its 2020 rankings, promoted by its editors as "the socially conscious alternative to U.S. News & World Report," measuring "how well they serve the country as a whole".
"This issue of the magazine gives students metrics they can use to hold their own schools accountable, and ideas we can all use to turn the system around," explained Paul Glastris, Washington Monthly's Editor-In-Chief. "Today's college students are the most socially active in decades, and keenly aware of how the higher education system is screwing them."
While 19 of U.S. News and World Report's top 20 national universities are elite private institutions, more than half of the Washington Monthly's top 20 are public institutions.
An example is Texas A&M, that ranked 70th by U.S. News, and 12th on the Washington Monthly list because it enrolls and graduates enormous numbers of first-generation and Pell Grant students as well as science and engineering PhDs. Last year, Texas A&M graduated more Pell Grant recipients than Stanford, Harvard, Yale, and Princeton combined.
Other elite private national universities that score in U.S. News's top 20 do less well on Washington Monthly—including Northwestern, Brown, and Johns Hopkins.
In the liberal arts category, Berea College in Kentucky, is 3rd on the Washington Monthly list for its extraordinary record of recruiting and graduating lower-income students, while it is 46th on U.S. News's.
The top 10 of National Universities are the following:
Stanford
Harvard
MIT
Yale
Princeton
Duke
U. of Pennsylvania
Georgetown
U. of California (San Diego)
Utah State
This is the top 10 of Liberal Arts Colleges–baccalaureate colleges that focus on arts and sciences rather than professional programs.
Amherst
Wesleyan
Berea
Washington and Lee
Harvey Mudd
Pomona
Vassar
Middlebury
Claremont McKenna
Williams
The top five Master's Universities–institutions that award a significant number of master's degrees but few or no doctoral degrees–are Goddard, Evergreen State College, California State University – San Bernardino, State University of New York – Geneseo, and Cedar Crest College.
Bachelor's Colleges–institutions that award almost exclusively bachelor's degrees–are College of the Ozarks, Cooper Union, Hiram College, Ohio Northern University, and Goshen College
The list of "Colleges Where Majors Popular with Black Students Pay Best" was led by the University of Alabama. In criminal justice, the leader was Texas Christian University. In sociology, Columbia University topped the list.
The complete 2020 Washington Monthly rankings are here.