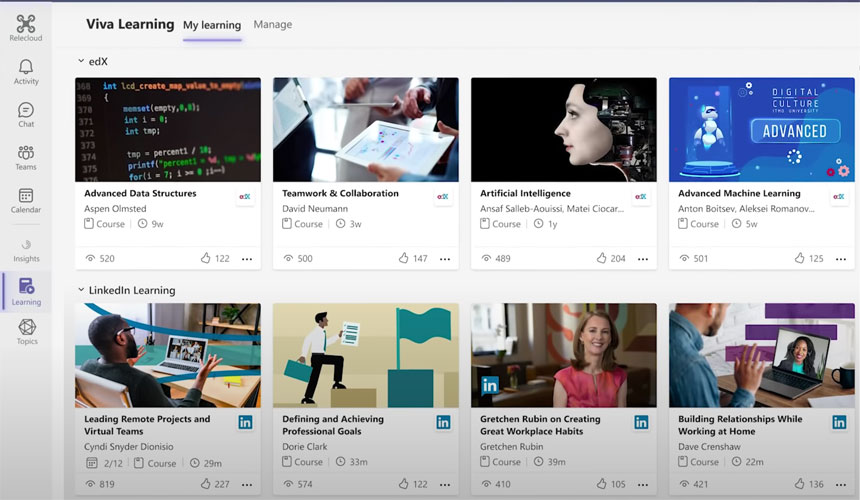 IBL News | New York
edX will be part of the Microsoft Viva initiative, making its low-cost, self-paced courses and programs available to employees that use Microsoft Teams and other tools. This way, corporations will be able to contract for bulk licenses for seats in edX through Teams.
Coursera, Pluralsight, Skillsoft, LinkedIn Learning, Microsoft Learn, and other content providers will be part of Microsoft Viva's educational library, as well. Microsoft Viva includes LMSs as Cornerstone On Demand, SAP SuccessFactors, and Saba.
"Our collaboration with Microsoft Viva Learning puts the life-changing tool of education into the hands of millions of more potential learners," said Adam Medros, co-CEO and President at edX.
"With the launch of Microsoft Viva, we are bringing learning directly to workers, putting people and teams at the center," explained said Chuck Friedman, CVP, Employee Experience at Microsoft Corp. "Integration with key partners will add robust content libraries and bring learning into employees' flow of work."

Announced on February 4th, Microsoft Viva is a new employee knowledge and learning platform—or Employee Experience Platform—that integrates with Microsoft 365 and Microsoft Teams productivity and collaboration tools. It is a service designed for the pandemic and post-pandemic times that redefines how employees remotely work.
Satya Nadella, CEO at Microsoft, justified the initiative by stating: "Every organization will require a unified employee experience from onboarding and collaboration to continuous learning and growth. Viva brings together everything an employee needs to be successful, from day one, in a single, integrated experience directly in Teams."
Analysts size the nascent Employee Experience Platforms (EXP) category at $300 billion in annual spending, according to Microsoft. It spans what is today a fragmented market of services, infrastructure, and hundreds of tools, many that go undiscovered and underutilized by employees at the companies that have invested in them. The pandemic is accelerating this market.
On Microsoft Viva, the Seattle-based corporation incorporates features built on SharePoint, Yammer, Microsoft 365, Microsoft Teams, and other tools.  
Microsoft Viva—priced at a $60 user/year–uses AI "to empower people with knowledge and expertise in the apps they use every day; help people learn, develop new skills, and innovate faster while they work; and automatically connect, organize, and protect content across teams and systems." On the learning side, AI is used for personalized recommendations.