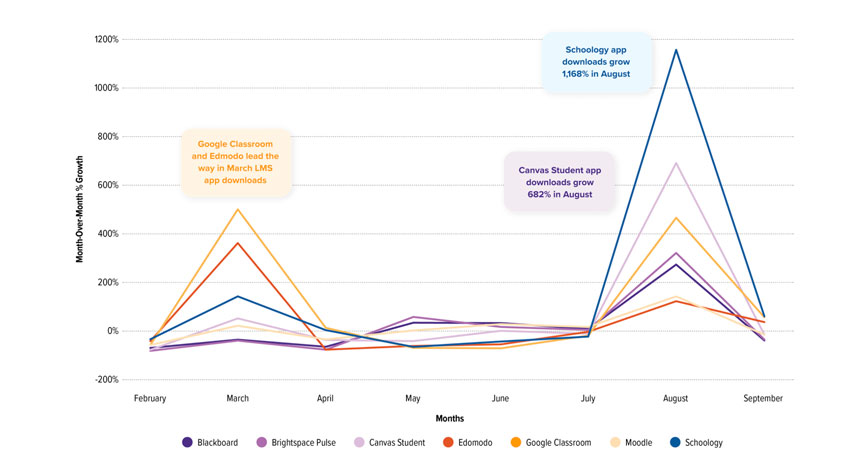 IBL News | New York
The COVID-19 pandemic has caused major spikes in LMS (Learning Management System) downloads.
A study of sykes.com—done after a survey of 2,500 U.S. adults and analysis of the most downloaded apps from January 1 through September 15—shows that Edmodo and Google Classroom top the lists of month-over-month percentage growth. 
The growth of both top apps is explained this way by the research company: "Edmodo was a great choice for schools looking to transition to online classrooms on the fly, due to its "freemium" pricing, seamless communication, and social network look and feel. Same for Google Classroom, which not only had the embedded benefit of brand recognition, it also encouraged collaboration between teachers and students."
Later on, administrators pivoted to "more tried-and-true services", such as Blackboard, Brightspace Pulse, Canvas Student, Moodle, and Schoology.
Schoology—which focuses on K–12 district success and community collaboration—grew an astonishing 1,168% between July and August and continued its trajectory in September. Other LMS apps also saw massive growth in August. Canvas was met with a 682% growth from the previous month, while Google Classroom, Brightspace Pulse, and Blackboard all saw their own 200%+ growth from July.
The following list shows the top-ranking LMS apps by growth percentage: