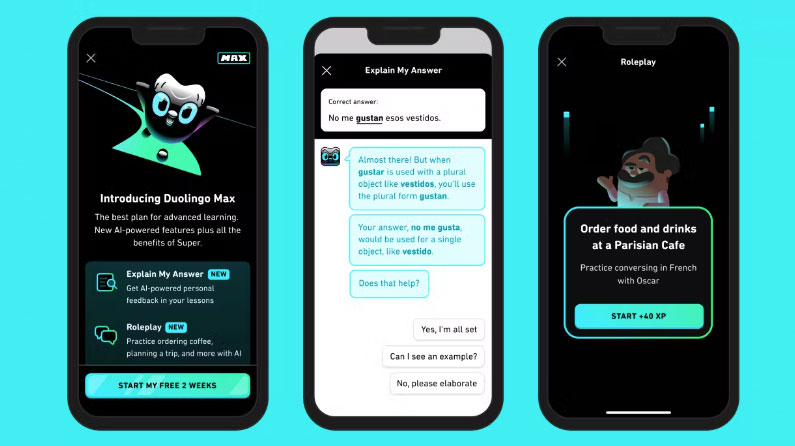 IBL News | New York
Two EdTech organizations, Duolingo and Khan Academy, are among the six outlets featured by OpenAI that are integrating OpenAI's latest GPT-4 model into their products.
After realizing that GPT-4 had learned from enough public data to create a flexible back-and-forth for the learner, Duolingo turned to this technology with two new features: Role Play, an AI real-world conversation partner, and Explain my Answer, an AI tutoring that breaks down the rules when you make a mistake, in a new subscription tier called Duolingo Max, which will be available for $30 per month or $167.99 per year.
With 50 million learners, 100+ courses in 40 languages, Duolingo is using these new features in Spanish and French for now, with plans to expand to more languages and introduce new features.
With thousands of lessons in math, science, and the humanities for students of all ages, the non-profit Khan Academy announced it will use GPT-4 to power Khanmigo, an AI-powered assistant that functions, now as a pilot, as both a virtual tutor for students and a classroom assistant for teachers.
Khan Academy will initially make the Khanmigo pilot program available to a limited number of participants, though the public is invited to join the waitlist.
"We think GPT-4 is opening up new frontiers in education," said Khan Academy's Chief Learning Officer Kristen DiCerbo. "A lot of people have dreamed about this kind of technology for a long time. It's transformative and we plan to proceed responsibly with testing to explore if it can be used effectively for learning and teaching."
"We see this technology as a potential way to accelerate our roadmap of building more tutor-like abilities into our platform within the next few years, while also providing capabilities we had only dreamed of before. Without a really powerful large-language model, these ideas weren't feasible, but now we think we can make real progress," said Director of Engineering, Shawn Jansepar.
The non-profit is testing out ways teachers could use GPT-4, such as writing classroom prompts or creating instructional materials for lessons.
"What's even more exciting is the potential to help teachers tailor learning for every student quickly and easily. We think teachers could use GPT-4 to get a snapshot of how every student in their class is doing at Khan Academy on any given day. We're going to test out that feature in the very near future."

This work is licensed under a Creative Commons.

IBL News is a nonprofit initiative.
This initiative is part of
IBL Education
.
New! IBL Education Partnered with