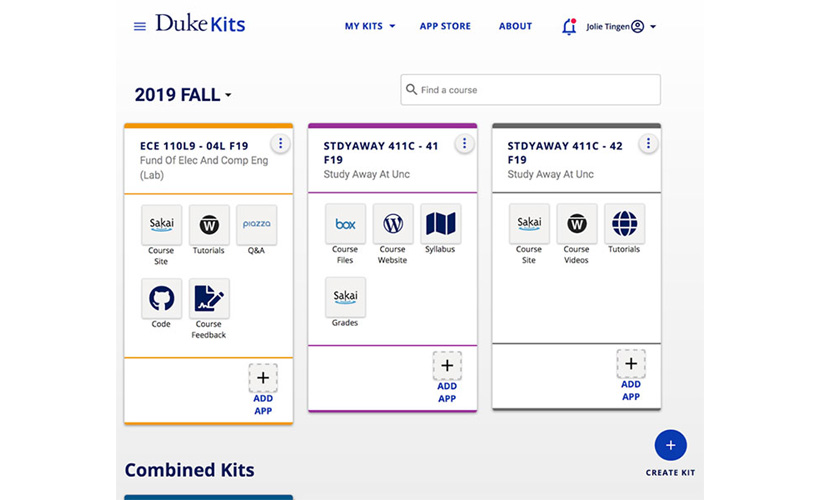 IBL News | New York
Duke University announced Kits, an open-source, next-generation digital learning environment (NGDLE).
"Relying on any single solution, including the LMS, is s a short-sighted technology strategy," Jolie Tingen, Product Manager at Duke, explained in an article at Educause Review. "No monolithic system can provide all learning communities with a completely optimal experience. Learning is maximized when appropriate technologies are used in conjunction with evidence-based pedagogies."
Kits features a card (a "kit") for every course. Instructors can add apps to their kits, and those apps are automatically shared with everyone in their courses.  (See images below).
Developed by Duke's Learning Innovation and the Office of Information Technology,  Kits – now released as an alpha version – evolved from a home-grown group management solution and it was developed outside the LMS. "It brings together the centralized student access points of the LMS with the flexibility and power of an app-based system."
Currently, eight applications are included on Kits, and three more are expected to arrive this year. Learning analytics are in the roadmap, too. The integration was done via LTI standard or API. In addition, Kits comes with a "custom link" option that allows both instructors and students to add any share-by-link application.
Kits is built with Ruby on Rails (Backend Framework), React (Frontend Framework), Grouper (Group Management), Shibboleth (SSO) and LTI.
All of the work is open at learnwithkits.com, Duke's public GitHub repository.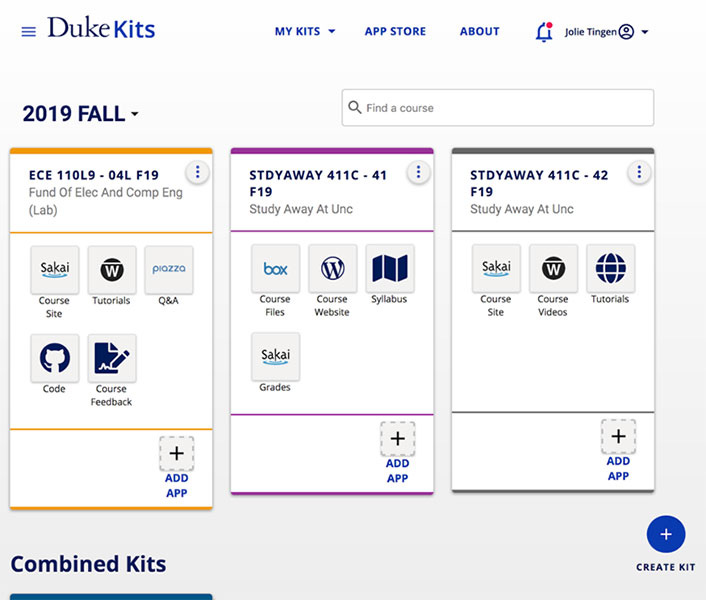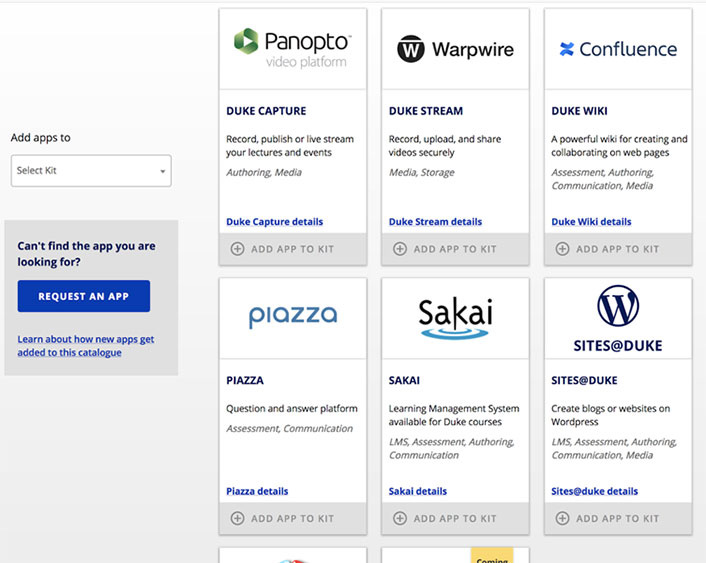 Imagine a day in the (not too?) distant future when faculty can select the digital tools they use to facilitate learning in their domains. Including the LMS. Which we won't even be calling them by then. #highered #edtech #opm #digped https://t.co/4yVfbV8qjE

— Michael Weinraub (@mweinraub87) November 26, 2019
Kits: Building the NGDLE Outside the LMS https://t.co/a25ZsRVfT5
This is interesting description from Duke U

— Phil Hill (@PhilOnEdTech) November 26, 2019