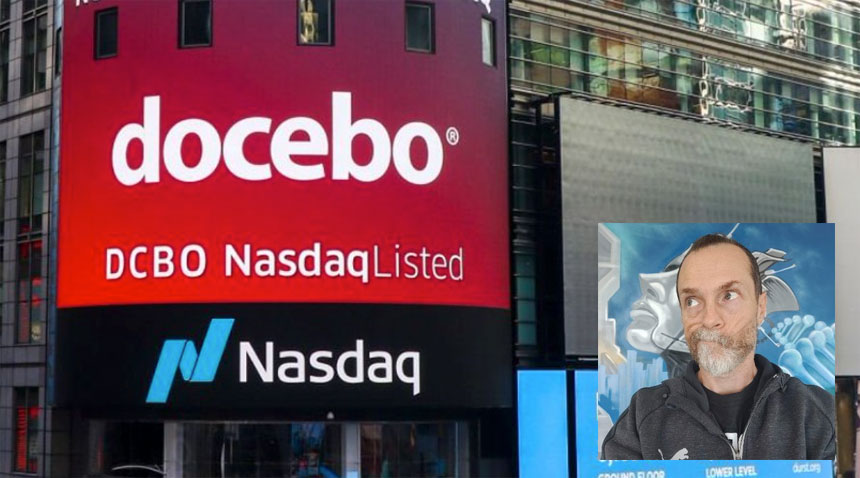 IBL News | New York
Toronto-based Docebo LMS (TSX: DCBO; Nasdaq: DCBO) announced on Friday the pricing of its marketed secondary public offering of common shares in the U.S. and Canada. It will be a price of $49.67 per share for proceeds of $100 million. The offering comprises 2,013,288 common shares.
One of the sellers is its Founder and CEO, Italian entrepreneur Claudio Erba, with 150,996 shares [In the picture above]. If the offer is successful, he will receive $7.5 million of the proceeds. The other two shareholders are Intercap Equity Inc (1,811,920 shares) and Alessio Artuffo (50,332 shares).
The offering is expected to close this week, on January 26.
The selling shareholders have also granted the underwriters the option to purchase up to 301,993 additional common shares, representing in the aggregate 15% of the total number of common shares to be sold.
Last year, Docebo showed explosive growth in the stock of 387%, from the pricing of $10.30 per share to $67.77 on January 22. In 2020, it attracted big customers such as Uber, Walmart, and AWS. For fiscal 2021, its revenue is expected to grow 44.7%.
Currently, its market value is $2.23 billion—similar to Instructure's Canvas LMS, which was taken off the market last year.
The Motley Fool recommended yesterday the DCBO stock to buy in 2021, along with two other technology companies (Kinaxis and Lightspeed POS).