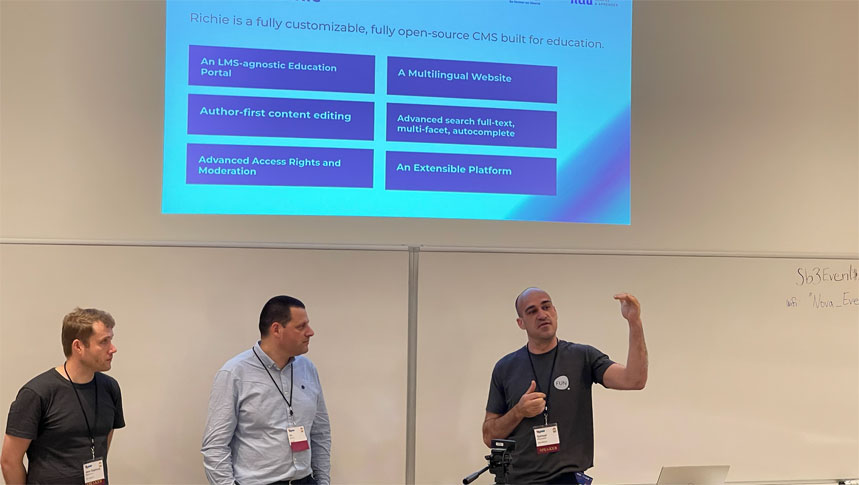 IBL News | Lisbon, Portugal
Over two hundred people responded to the call of edX/2U and MIT's and Harvard's new venture tCRIL to participate in the 6th Open edX conference, which is taking place in Lisbon, Portugal, this week (April 26-29, 2022).
This annual reunion of engineers, education professionals, and business leaders was interrupted in 2020 due to the pandemic. In 2021, it took a virtual format and less than forty people participated.
Another inflection point was 2U's acquisition of edX Inc for $800 million. Stewardship of the Open edX project was moved to a newly-created non-profit entity, temporarily named The Center for Reimaging Learning (tCRIL).
With a workforce of only 11 people today, this organization has promised to "redouble the investments to make the community more open and inclusive," as Ed Zarecor, Chair of the Open edX Technical Oversight Committee (TOC), announced. This committee provides formal governance for the Open edX project.
Around 35 staffers from 2U, the new owner of edX Inc., attended this Open edX event this week. The majority of them were former employees of edX Inc.
Only a reduced number of professionals decided to stay with MIT's and Harvard's venture. The nonprofit nature of the tCRIL is what most motivated them to remain in the old structure.
The schedule of keynotes and talks didn't reflect the dominant presence of 2U. The engineering orientation of the conference didn't change in this edition.
The agenda on the first day of the conference showed valuable contributions to the Open edX community, according to several attendants.
Samuel Paccoud, Jean-Baptiste Penrath, Ivo Branco, and Sandro Costa presented a fully customizable, open-source CMS built for education.
Rupinder Kaur Kohly, from Skill-Up Technologies, showed a prototype of a course-level chatbot.
The three edX university partners in Spain — Carlos III de Madrid, Autonoma, and UPV — outlined the blueprint to transform the Open edX platform into "the next on-campus LMS" mostly by integrating Student Information System and better analytics, grade book, gamification, and other key features.
Rav Ahuja, Leon Katsnelson, and Daniel Rudnitsky, from IBM, introduced its new Skills Network as "a learning platform (LXP) of the future."
#OpenedX2022 Conference Day 1 = great start. Many great sessions with excellent follow-up conversations. The advancements in tech is def bolstering the dev and direction of elearning. I am absorbing and engaging as much as I can! @construct_edu #edtech #openedx pic.twitter.com/9r81g53jPg

— Wendy Viljoen (@WendyViljoen) April 26, 2022
O primeiro dia da @OpenEdX 2022 é dedicado à formação. Ao longo do todo o dia, realizam-se mais de uma dezena de sessões paralelas, com demonstrações e workshops. Tendências emergentes em áreas como multimédia, learning experience design ou blockchain estão em foco⚙️#OpenedX2022 pic.twitter.com/OypcnJrdFy

— NAU (@PlataformaNau) April 26, 2022