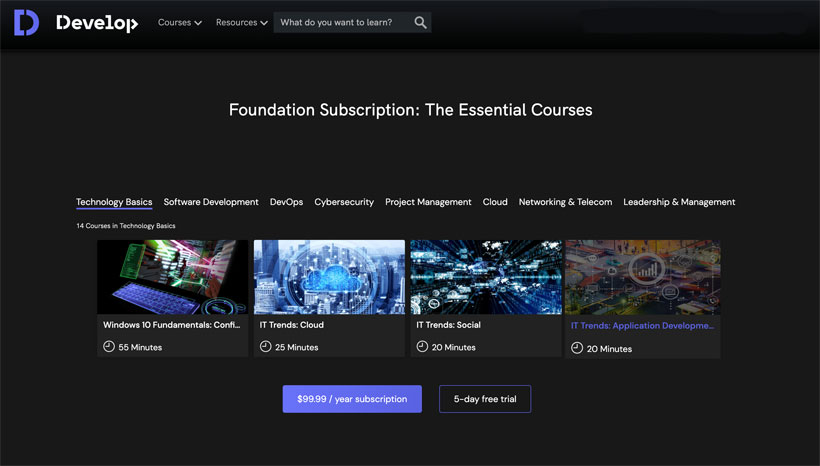 IBL News | New York
Develop.com online learning platform introduced its new brand and user experience this week, along with new course content and certificates.
Boston-based Develop provides on-demand courses on IT for business professionals. It was launched this Spring in partnership with Global Knowledge, recently acquired by Skillsoft.
"The new look and 'Find Your Track and Develop' tagline encapsulates the goal of the platform for its end users," said Kevin Pawsey, Chief Experience Officer (CXO) at Develop.
"The refreshed brand is fueled by a commitment to serve both technical specialists and tech-adjacent workers by helping them discover what course series best suits their needs in an ever-changing, tech-driven landscape," he added.
"Our new site is more user-friendly, visually appealing, and we've updated the checkout process to make it easier for you to find the course you want and start learning as quickly and easily as possible," explained James McNamee, VP of Marketing and Sales at Develop.com.
Next month, Develop.com will release a Cybersecurity Academy within its platform. It will contain practice with hands-on skills, and include courses on security and password policies, user group management, encryption and firewall implementation, and auditing in Linux domain.
Develop recently added these courses:
The new website and platform are built upon an Open edX ecosystem developed by the New York-based IBL Education learning software company.
New look, same high-quality, expert-led courses with knowledge checks, hands-on practices, and completion certificates. Find your track: https://t.co/wuqABYCAd5 pic.twitter.com/u5Bhg4j59u

— Develop (@Develop) October 26, 2020