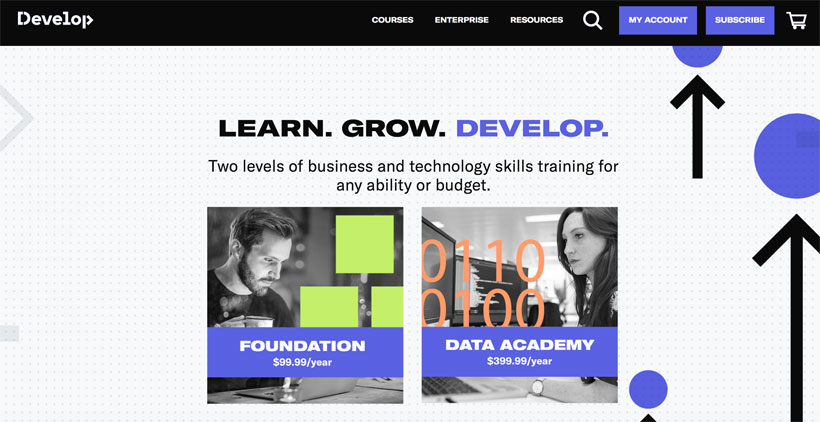 IBL News | New York
[UPDATE May 7, 2020: Develop.com Partners with Global Knowledge]
A team of U.S. industry professionals in education and business technology led by Kevin Pawsey, Global CIO at Global Knowledge and Chief Executive Officer at Develop, launched today Develop.com, a career-boosting, subscription-based learning platform.
"Develop provides high-quality courses across emerging and business-critical technologies, including cybersecurity, AI, and machine learning, at prices accessible to more people than ever before," explained Kevin Pawsey.
The Boston-based platform offers two subscription levels: Foundation ($99.99 /year) and Academy ($399.99 /year). New subscribers will have a free 30-day Foundation-level trial access until May 22, 2020.
The Foundation-level subscription offer includes 200+ courses, intended to gain basic knowledge and skills. Subjects covered are the following: Technology Basics, Software Development, DevOps, Cybersecurity, Project Management, Cloud Technology, Networking & Telecom, and Leadership & Management.
The Academy-level subscription includes Academies dedicated to a specific topic technology area and intended to gain advanced expertise, knowledge, and hands-on skills practice. At launch, Develop is offering The Data Academy, which includes 73 courses, covering Data Extraction, Analysis & Visualization, Deep Learning, Artificial Intelligence, and Machine Learning.
The company plans to create additional Academies focused on Cybersecurity, Cloud technologies, and Software Development.
Develop.com comes with three introductory courses for free: What is Agile?, Introduction to Cybersecurity, and Introduction to Python.
• Press Release: Develop Launches an Online Learning Platform for Today's Technology and Business Professionals
• Blog Post at Develop.com: Hello World!