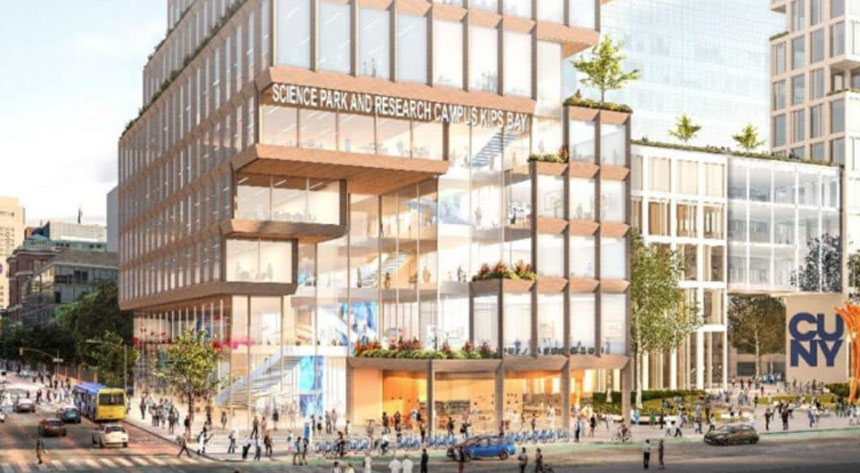 IBL News | New York
CUNY (City University of New York) will launch, in partnership with New York City and the State leadership, the Science Park and Research Campus (SPARC) Kips Bay, a $1.6 billion, first-of-its-kind, innovation hub for the life sciences industry in Manhattan in 2031.
It will include new modern facilities for 4,5000 students from the CUNY Graduate School of Public Health and Health Policy (CUNY SPH), the Hunter College School of Nursing and School of Health Sciences, and the Borough of Manhattan Community College's multiple healthcare programs.
This project, spanning 1.5 million square feet in Kips Bay [see maps below], will transform the Brookdale Campus on East 25th Street into new, state-of-the-art teaching and commercial facilities. The initiative will further a career pipeline in life science for local students, in addition to rebuilding a pedestrian bridge that will connect East 25th St. to Manhattan Waterfront Greenway.
SPARC Kips Bay will be funded jointly by the city and state with additional investment from the private sector in life sciences.
The project, expected to break ground in 2026 and be completed by the end of 2031, will include additional lab and research space for CUNY SPH and house the school's library and study centers. The new campus will also include additional classrooms for the school's planned undergraduate program in public health.
The project, announced this month, is expected to generate approximately $25 billion in economic impact to the City of New York over the next 30 years, create 10,000 jobs, and create a pipeline from local public schools to careers in the growing and essential fields of life sciences, health care, and public health.
At a press event on October 19, Governor Kathy Hochul, New York City Mayor Eric Adams, and CUNY Chancellor Félix V. Matos Rodríguez unveiled the plans for the new campus.
"COVID-19 proved how important New York's public hospitals, research institutions, and universities are to the survival and the well-being of our beloved city," said Chancellor Matos Rodríguez. "So it is fitting that the mayor and the governor have teamed up with CUNY to transform this Brookdale Campus into a public health and education hub to better meet the needs of our students' faculty and of all Yew Yorkers," he added.