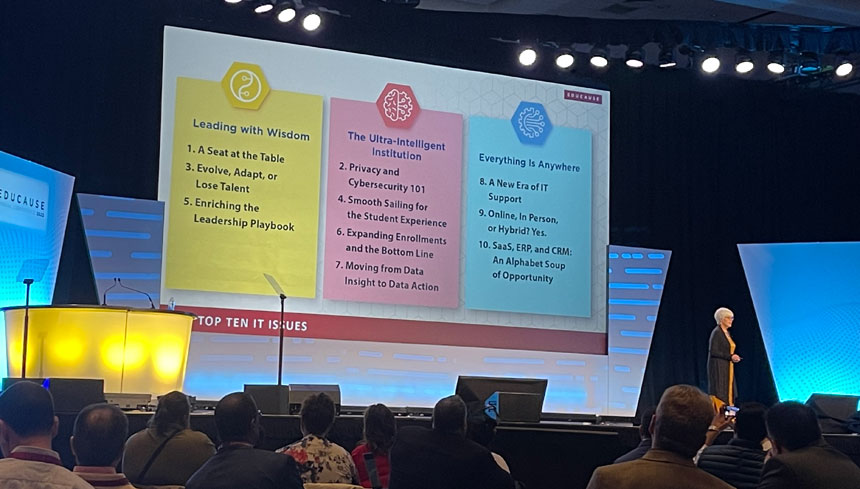 IBL News | Denver, Colorado
The higher ed professional association Educause presented the 2023 Top 10 IT issues during its annual conference yesterday in Denver, Colorado.
"Today's times demand more from technology," said Susan Grajek, Vice President for Partnership, Communities, and Research at Educause, during the opening keynote address [In the picture above]. "We need new foundation models," she added.
Susan Grajek highlighted the idea that "data leads to better decisions." "The AI (Artificial Intelligence) foundational models can be applied to higher" as "potential value of AI is emerging."
Another idea that Educause insisted on in front of thousands of educators and industry leaders gathered for three days (October 25 – 28, 2022) in Denver was the extension of stress and anxiety among students.
In an exclusive interview with IBL News, John O'Brien, president of Educause, said that 70% of them show or have shown mental health issues in the last post-pandemic months.
The top 10 IT issues research was divided into three themes: leading with wisdom, ultra-intelligent institutions, and everything is anywhere.
Leadership – Leading with WisdomIssue #1 – A Seat at the Table: ensuring IT leadership is a full partner in institutional strategic planningIssue #3 – Evolve, Adapt, or Lose Talent: creating a workplace that allows for and supports movement up, down, and sideways to accommodate shifts in personal and professional goals and to foster healthier work/life balanceIssue #5 – Enriching the Leadership Playbook: leading with humility and candor to engage, empower, and retain the IT workforce
Data – The Ultra-Intelligent InstitutionIssue #2 – Privacy and Security 101: embedding privacy and security education and awareness in the curriculum and workplaceIssue #4 – Smooth Sailing for the Student Experience: using technology, data, insight, and agility to create a frictionless student experienceIssue #6 – Expanding Enrollments and the Bottom Line: focusing on data and analytics initiatives on identifying academic programs with high potential for recruitment ROI

Issue #7 – Moving from Data Insight to Data Action: converting data analytics into action plans to power institutional performance, enhance operational efficiency, and improve student success

Work and Learning – Everything is AnywhereIssue #8 – A New Era of IT Support: updating IT services to support remote and hybrid workIssue #9 – Online, In Person, or Hybrid? Yes: developing a learning-first, technology-enabled strategyIssue #10 – SaaS, ERP, and CRM: an alphabet soup of opportunity: managing cost, risk, and value of investments in new ERP solutions
Clocking in at #10 is SaaS, ERP, and CRM: An Alphabet Soup of Opportunity that looks at managing cost, risk, and value of investments in new ERP solutions. See the entire list and read the report. #Top10ITIssues https://t.co/ROzptWMMlq pic.twitter.com/j3U1kqYVI3

— EDUCAUSE (@educause) October 31, 2022
Here it is! The Top 10 Issues for 2023. What are your takeaways? pic.twitter.com/396t5kyAsH

— EDUCAUSE (@educause) October 27, 2022