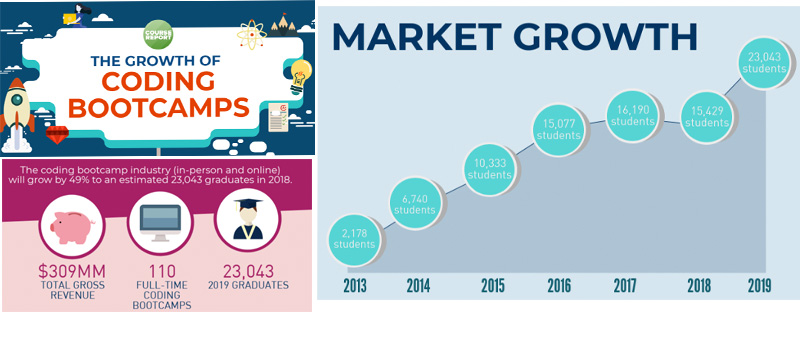 IBL News | New York
Coding bootcamps, currently an industry of $309 million in revenue, will graduate around 23,000 developers in 2019, an increase of 49% over 2018, according to an in-depth study by Course Report.
As a point of reference, in 2018 there were about 93,000 undergraduate computer science majors graduating from American universities.
A key finding shows that online coding boot camps are growing even than in-person bootcamps  in growth around 171% year-over-year. However, by sheer count, in-person graduates still dominate — 17,524 vs. 5,519 in 2019.
As a trend alert, Course Report indicates that 29 bootcamps will teach an additional 22,549 students via 995 corporate training partners.
Additional key findings highlight that:
In 2019, there are 96 in-person bootcamp providers and 14 online bootcamp providers. As of June 1, there are coding bootcamps in 71 U.S. cities and 38 states.
Average tuition price of qualifying in-person courses is on the rise – $13,584, with an average program length of 15.1 weeks. Online bootcamps are slightly less expensive ($12,898) and much longer (24.3 weeks).
Tuition revenue from qualifying schools will be $309,237,750 in 2019 (not including corporate training revenue) – this includes $71,186,477 from online schools in 2019. Trend Alert: 23 bootcamps offer Deferred Tuition or Income Sharing Agreements in 2019.
This year, Full Stack JavaScript continues to be the most common teaching language, used in 44% of Web Development courses.
The length of online programs has stretched out, from 15.4 weeks in 2018 to 24.3 weeks in 2019. This rise in duration is attributed to the launch of six-month programs in 2018 by online operators such as Lambda School and Thinkful.
In-person coding bootcamps were also trending longer. The average length of an in-person bootcamp is now 15.1 weeks, a bump up from 14.4 weeks in 2018.