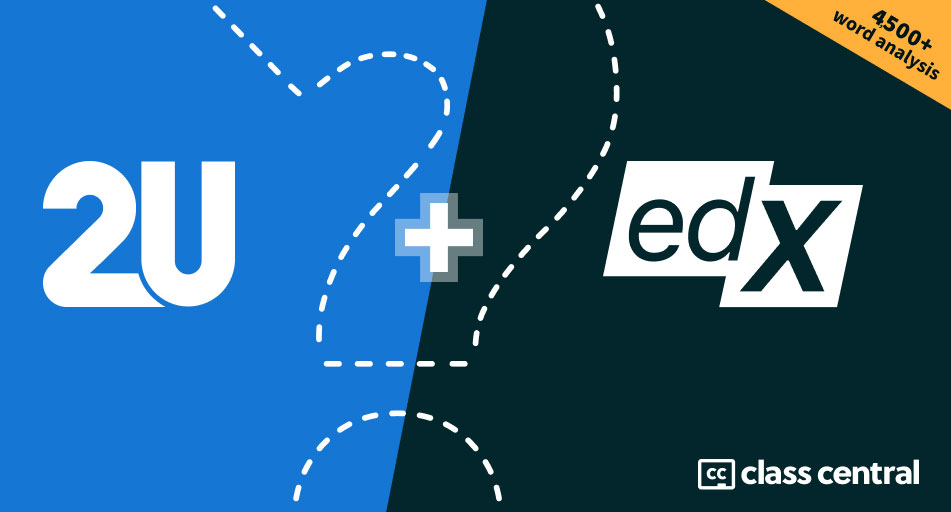 IBL News | New York
2U's purchase of the educational site edX.org will make Coursera.org stronger since edX is surrendering the ideological advantage of its nonprofit status. In addition, 2U is relegating edX to the level of "marketplace" with millions of leads; 2U might use those leads to push thousands of learners into debt, following conversion practices through its "marketing engine."
This is the view of Dhawal Shah, an expert in online education and founder and CEO of course aggregator site, Class Central.
Dhawal Shah's perspective, expressed in his latest article, "2U + edX Analysis: Win for 2U, Risk for edX, Opportunity for Coursera", contradicts the dominant narrative of win-win, developed by 2U and edX and amplified by MIT and Harvard University top management.
Shah's research doesn't include the Open edX software, which legally will be owned and controlled by a new nonprofit flooded with $800 million and governed by MIT and Harvard. This open-source platform emerges as one of the winners of the transaction, according to analysts.
These are the main ideas of the CEO of Class Central:
"As someone who's followed edX and the MOOC space since day 1, this just looks like capitulation."
"For years, edX presented itself as a morally superior alternative to Coursera due to its nonprofit status. But now, they're relegated to the status of a "marketplace" that might push thousands of learners into debt."
"Some argue this acquisition threatens Coursera. I suspect the opposite: it could make Coursera even stronger since edX is surrendering its biggest, and possibly only, defense against Coursera."
"edX losing its nonprofit status could make some universities rethink their partnerships, creating an opportunity for Coursera to convince some of them to offer courses on their platform or even switch platforms entirely."
"For edX to grow and be able to compete with Coursera, 2U would need to invest hundreds of millions of dollars over the next few years. But is 2U willing to do that? Scratch that. Can 2U even afford to do that?"
"edX FY2020's expenses were about $100M. Will 2U be able to invest another $50–$100 million per year to grow edX?"
"Maybe if 2U's stock price keeps going up, they'll be able to secure another loan. But this puts edX at the whims of the "market"."
"MIT has already announced it'll launch a new platform called MITx Online based on Open edX, specifying that "MIT faculty may choose to continue to offer their courses through the new edX after the transaction is completed or move them to MITx Online. This provision signals that some faculty might not be comfortable offering their courses on a for-profit platform, so they've been provided a way out. Basically, ~10% of edX's learners are enrolled in MIT courses. And some of these courses might now move to MITx Online. So this acquisition already cost edX their exclusive access to the offerings of one of the world's most famous universities."
"2U CEO said the company has long believed that "universities are in control, 2U is not" when it comes to any partnerships with the company. "We have to do right by the stakeholders every single day," he added. Basically a non-answer from a seasoned executive."
"This is how edX marketplace might work:
– Combined listings: 2U products will be listed in edX's catalog. When you visit edX and search for a course, you'll see programs from edX and 2U combined, with 2U products potentially given priority.
– Email marketing: registered users might start receiving targeted emails regarding 2U programs based on their activity on the website. For instance, if you enrolled in a data science course, they will send you promotional emails for data science degrees or GetSmarter courses.
– Landing pages: 2U might also take advantage of edX's strong presence on Google to create specific landing pages for their online degrees or boot camps."
"2U estimates that 38% of 2U's 2019 revenue was derived from Title IV loans. But it failed to disclose how many students were getting loans from private lenders.2U's admissions team tries to convert a "lead" into an actual enrollment through email marketing or direct calls. Companies tend to be really secretive about this and go out of their way to pretend it doesn't happen."
"I wouldn't be surprised if there are hundreds of employees at 2U each making dozens of calls daily to prospective students. The now-defunct HotChalk, an OPM like 2U, boasted about making 14k calls daily on its website."
Last week, 2U is acquired edX for $800 million in cash. The narrative seems to be that their combination will pose a threat to Coursera. But I am not so sure.

I just published a 4500-word data-driven analysis, the longest article I have ever written.https://t.co/2aDUyf5g7D

— Dhawal Shah (@dhawalhshah) July 5, 2021