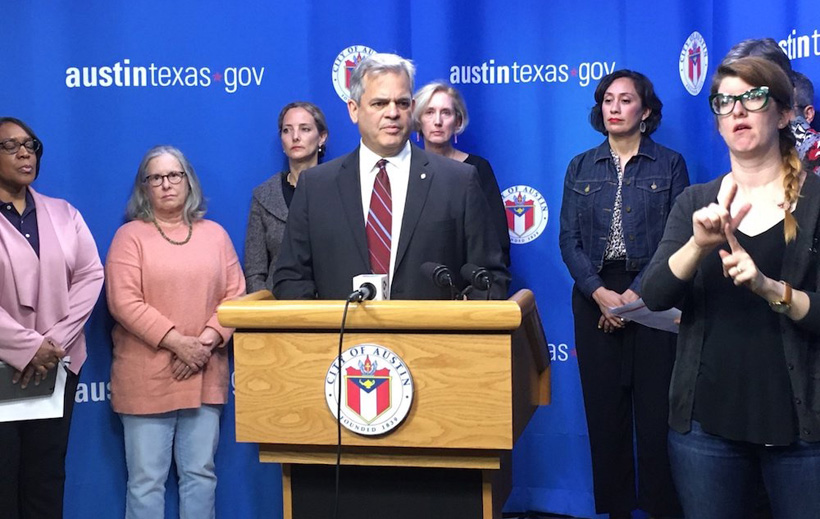 IBL News | New York
The SXSW famous educational and film festival in Austin, Texas, was canceled today, as the city declared a local disaster due to concerns about the coronavirus.
The move came after many big-name companies and entertainers pulled out of the conference, along with a Change.org petition signed by tens of thousands of people calling for the festival to be canceled.
Mayor Steve Adler [in the picture above], Judge Sarah Eckhardt, Dr. Mark Escott of the Interim Health Authority and Austin Public Health Director Stephanie Hayden, made the announcement this Friday.
Dr. Escott said the decision to cancel SXSW was made after weighing options to mitigate the risk of the disease. He said factors such as the close proximity of participants and attendance of international guests led officials to cancel the event entirely.
City officials announced that all other upcoming events outside of SXSW will also be evaluated by Austin Public Health officials for a disease mitigation plan.
"We are devastated to share this news with you," SXSW said in a statement. "The show must go on is in our DNA, and this is the first time in 34 years that the March event will not take place. We are now working through the ramifications of the unprecedented situation."
The festival and conference said it was already "exploring options to reschedule and provide a virtual SWSW online experience as soon as possible participants."
An Update on SXSW 2020. Please read our full statement here: https://t.co/P56nF8KFmE pic.twitter.com/ouJPKM9GNy

— SXSW (@sxsw) March 6, 2020