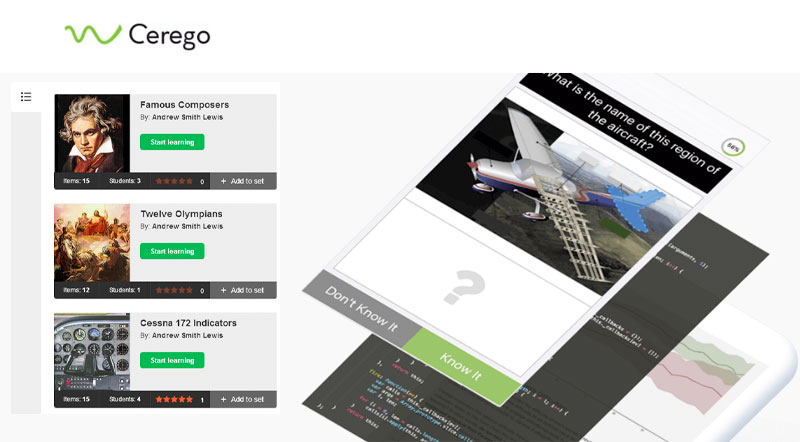 IBL News | New York
San Francisco-based Cerego started to roll out a new suite of "Create" tools for its adaptive learning platform.  These AI-powered tools use natural language processing to "reduce content creation time by more than 25%", according to this company.
This technology is content-agnostic and can be applied to any subject matter or skillset. It includes:
Smart Answers autogenerate multiple-choice distractors.
Smart Questions adapt to become more challenging as learners demonstrate knowledge gains, helping to maximize long-term retention.
Smart Suggestions turn a single word into a learning experience with one click.
Smart Learner Sessions complement the new Create tools by giving learners more transparency and control over their learning schedule, including the option to review specific concepts they struggle with after each session.
"Smarter content leads to better learning, and that's the focus of these new tools," said Paul Mumma, the new CEO of Cerego, appointed this week.
Cerego claims to be used by nearly 2,000 academic institutions and corporate training programs in the U.S. The platform has generated more than three-quarters of a billion learner interactions, giving Cerego one of the largest learner data sets in the world, outside of academia. Create leverages feedback from these interactions and decades of cognitive science research to provide Cerego partners with the ability to create a customized, personal experience to meet their learning needs.
"We've made incredible progress in the years since, combining cognitive science with modern technology to help more than one and a half million professionals and students increase their knowledge and improve long-term retention. The new Create tools will make it easier than ever to help learners achieve these goals with smarter content," said Andrew Smith Lewis, co-founder of Cerego.