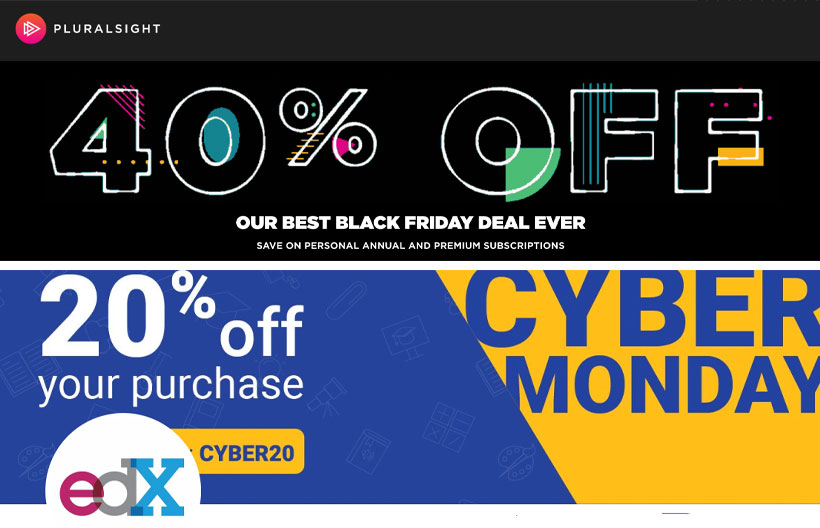 IBL News | New York
This year, online education was not immune to the marketing craziness of Black Friday and Cyber Monday.
Even edX.org, the nonprofit organization founded by Harvard and MIT, and focused on higher education at scale, fell into the guerrilla promotional techniques after the Thanksgiving day.
Competitors, Coursera and Udacity, the two Silicon Valley largely founded unicorns, contradicted their commercially aggressive reputation and stayed calm. Also, Microsoft's LinkedIn Learning and 2U's GetSmarter short courses unit remained quiet.
On Thursday, edX announced that something big was coming: "Mark your calendars and head over to edx.org tomorrow for the reveal."
That big event was no other than a 20% discount on the purchases of courses and programs, as stated on their website, Facebook, Twitter, and LinkedIn:
Cyber Monday starts now.

Save 20% on your purchase: https://t.co/UqDkDgWLa8 pic.twitter.com/HsdPzNyjlS

— edX (@edXOnline) November 29, 2019
edX's offer highlighted a selection of 24 programs and courses about Data Science, Business, and Computer Science, although the code could be applied to other courses, as MITx reminded on its Twitter account.
Another large company, Pluralsight (NASDAQ: PS), with a whopping market cap of $2.3 billion, offered a discount of 40% on an annual subscription: prices on regular subscriptions dropped from $299 to $179, and from $449 to $269 on premium. (Connected or not to the deal, Pluralsight's stock grew 2.23% yesterday.)
Our best Black Friday deal ever starts now! This is your chance to save 40% on an annual or premium subscription. https://t.co/N5LKYtpkl3

— Pluralsight (@pluralsight) November 25, 2019
Black Friday savings were also heavily promoted on Udemy.com, with one of the largest catalogs of courses (over 100,000 titles).
Whether you want to start learning Python or finally take that project management course, now's the time to do it. Yep, today's the day. Click here to get👏 those👏 skills👏https://t.co/56j2H07jdK #ShopSmart pic.twitter.com/gJxweULOez

— Udemy (@udemy) November 24, 2019
Udemy launched thousands of courses starting at $10 when those classes normally cost $100.
Skillshare didn't miss the shopping opportunity and went with a "super sale".
Learn from the best, on your own terms. For less! This holiday weekend only. https://t.co/uBZ8oJp4HR pic.twitter.com/z92XDB9jgr

— Skillshare (@skillshare) November 29, 2019
Finally, Teachable.com, the course creation platform, launched its first-ever discount (10% to 20%) on basic and professional membership plans. Its main competitor, Thinkific, joined the marketing season, too.
Happy #BlackFriday! Our first-ever discount on Teachable memberships is live! There's never been a better time to launch your online course and grow your business: https://t.co/zFr2niAPWO pic.twitter.com/UPLk6E67CX

— Teachable (@teachable) November 29, 2019
⚫ THINKIFIC BLACK FRIDAY ⚫
7 months of Thinkific for the price of 5!

We finally get to share with you our biggest offer of the year: 7 months of our Pro + Growth plan for the price of 5, plus $2100 worth of bonuses.

GRAB IT HERE.https://t.co/ICLO39JynX pic.twitter.com/FWE4XJWRf1

— Thinkific (@thinkific) November 26, 2019