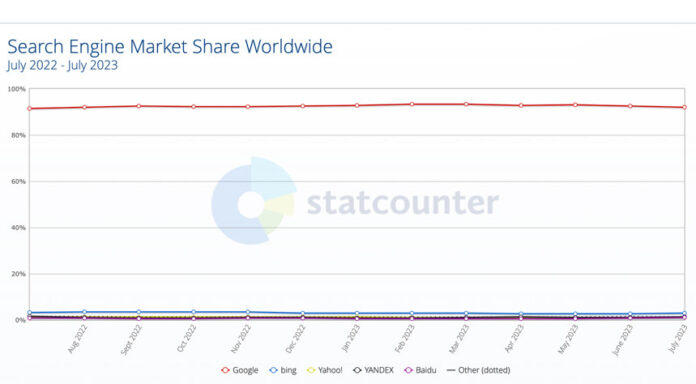 IBL News | New York
Despite its multi-billion dollar investment in OpenAI's ChatGPT, Microsoft hasn't shifted Bing's market share.
According to data company Statcounter, the market share of Microsoft's search engine, which includes Bing Chat, has remained stagnant since its debut, at 2.99%, with only a slight deviation from January's 3.03%.
YipitData, an analytics firm, said that Bing's usage sky-rocketed from 95.7 million in February to 101.7 million in March, but the traffic was short-lived, as the numbers dropped to 96.4 million in April. Usage spiked again in May to 99.2 million.
The decline can be attributed to several things. First up, during its debut, the tool was spotted giving inaccurate responses. There's also the fact that Microsoft had limited the use of the tool to its Microsoft Edge-based browser. Additionally, many organizations are still warming up to the new technology.
Microsoft has refuted the findings and insists that the chatbot is still a hit, stating that the third-party findings are inaccurate.
SimilarWeb highlighted that the number of users leveraging ChatGPT's offerings has decreased by 12 percent between June and July.
Source: StatCounter Global Stats – Search Engine Market Share