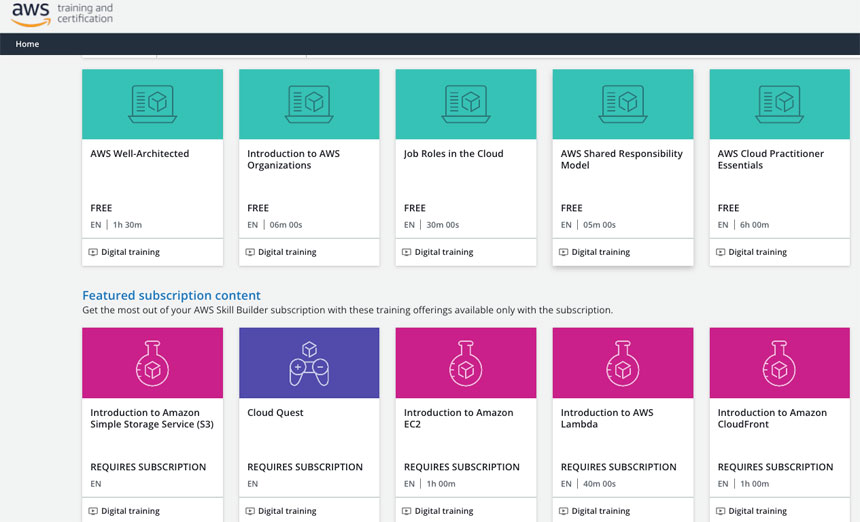 IBL News | New York

Amazon introduced AWS Skill Builder and Team subscriptions this month. These are courses about cloud technologies that include hands-on training.
The foundation courses are available online for free; there are over 500 free courses. The announced subscriptions offer more exclusive content to advance learners' cloud skills and prepare them for AWS Certification exams.
The AWS Builder Labs will provide hands-on guided, practical exercises to develop skills for common cloud scenarios. Learners will receive a sandbox AWS account for the duration of the lab.
The Individual subscription is offered monthly at the price of $29 per month or annually at the price of $299 per year. The subscription can be stopped at any time.
Team subscriptions cost $449 per learner each year, though high-volume discounts are available. This plan includes enterprise-focused features such as the ability to assign training exercises, progress reports, and integration with a company's single sign-on (SSO) provider.
Last November, Amazon launched a bunch of free cloud skills products, such as AWS Skill Builder. Now, the e-commerce giant intends to monetize the offering through monthly subscriptions.
In the last years, the "big three" cloud companies have introduced training courses to sway developers and companies over to their ecosystems.
Last year Google introduced Google Cloud Skills Boost with the goal of training 40 million people. Similar to Amazon's new effort, it charges $29 or $299 on a monthly or annual subscription.
Despite the global economic climate and a $2 billion loss, Amazon last week reported continued strong cloud growth, with AWS revenues jumping 33% year on year to $19.74 billion in Q2.