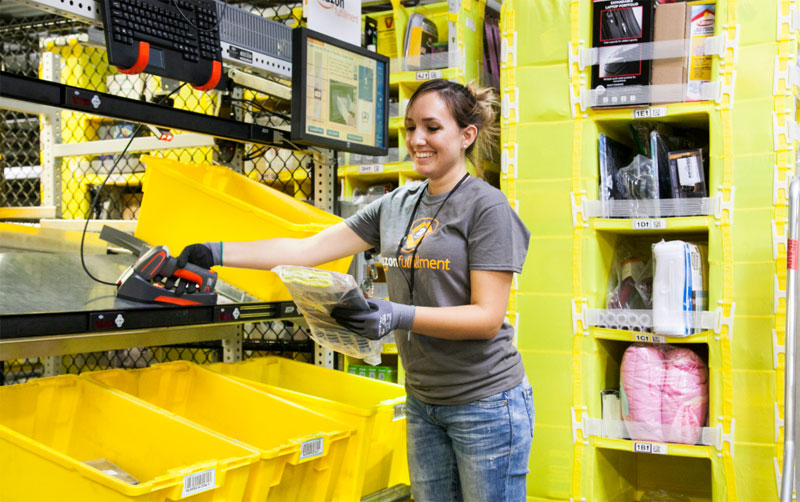 IBL News | New York
Amazon will invest $700 million over six years to provide upskilling, post-secondary job training for 100,000 of its employees (one in three) across the U.S.
This massive corporate retraining initiative breaks down to about $7,000 per employee or about $1,200 a year through 2025.
This way Amazon's programs will help employees across corporate offices, tech hubs, fulfillment centers, retails stores and transportation networks to move into more highly skilled roles within or outside of Amazon.
The training will be voluntary and mostly free for workers. In addition, it won't obligate participants to remain at Amazon.
The announcement, made last Thursday, highlighted that "employee upskilling investment builds on Amazon's $15 minimum wage and comprehensive benefits including medical insurance, 401k savings plan, and generous parental leave."
Most of this training will be built by Amazon alongside external experts.
Amazon's fastest-growing highly skilled jobs over the last five years are data mapping specialist (832% growth), data scientist (505%), solutions architect (454%), security engineer (229%) and business analyst (160%). Within customer fulfillment, highly skilled roles have increased over 400%, including jobs like logistics coordinator, process improvement manager, and transportation specialist within our customer fulfillment network.
Through its Upskilling 2025 pledge, Amazon is focused on creating pathways to careers in areas such as healthcare, machine learning, manufacturing, robotics, computer science, cloud computing, and more.
Programs include:
Amazon Technical Academy, a training and job placement program that equips non-technical Amazon employees with the essential skills to transition into, and thrive in, software engineering careers. It combines instructor-led, project-based learning with real-world applications.
This tuition-free program was created by Amazon software engineers for Amazon employees who want to move into the field. More here.
Associate2Tech, a fully-paid 90-day program that trains fulfillment center associates to move into technical roles regardless of their previous IT experience. It pays for their A+ Certification test, a widely recognized certification. Learn more here

.
Machine Learning University (MLU), an initiative that offers employees with technical backgrounds the opportunity to access machine learning skills via an on-site training program.
Divided into six-week modules, the program requires only half to one full day of participation a week. MLU is taught by more than 400 Amazon Machine Learning scientists who are passionate about furthering skills in the field. Originally launched as a small cohort, the program is on course to train thousands of employees.
AmazonCareer Choice, a pre-paid tuition program designed to train fulfillment center associates in high-demand occupations of their choice. Amazon will pay up to 95% of tuition and fees towards a certificate or diploma in qualified fields of study, leading to in-demand jobs. Since launching Career Choice in 2012, over 25,000 Amazonians have received training for high-demand occupations including aircraft mechanics, computer-aided design, machine tool technologies, medical lab technologies, and nursing. The company is investing in expanding the program by building additional classrooms in its fulfillment centers globally and expects to have over 60 on-site classrooms by the end of 2020.
Amazon Apprenticeship, a Department of Labor certified program that offers paid intensive classroom training and on-the-job apprenticeships with Amazon.
Providing a combination of immersive learning and on-the-job training, the Amazon Apprenticeship program has already created paths to technical jobs for hundreds of candidates working to break into careers including cloud support associate, data technician and software development engineer.
AWS Training and Certification, a program that provides employees with courses to build practical AWS Cloud knowledge and discounted AWS Certification exams to validate cloud expertise.