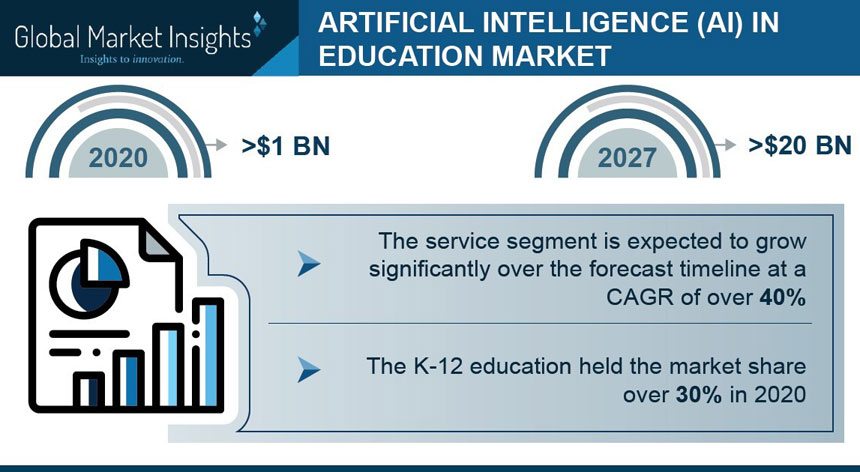 IBL News | New York
Artificial Intelligence (AI) in the education market will cross $20 billion by 2027, according to market research and consulting provider Global Market Insights. It is expected to grow at a Compound annual growth rate (CAGR) of 40% between 2021 and 2027. K-12 will account for over 30% of the revenue share.
The rising demand for online learning platforms after the COVID outbreak has prompted the development of innovative AI machine learning-based solutions.
AI is helping to improve student's learning styles by offering personalized tutoring, immediate feedback, and gauging pre-existing knowledge.
"With AI, students feel comfortable making the errors necessary for learning, which they would otherwise be hesitant to make in front of their human tutors and peers," says the report.
Experts say that machine learning will allow us to understand educational patterns and suggest variations for teaching methods while enabling unbiased grading systems for both students and teachers.
According to the author of the report, one of the participants in the AI education market will be IBM, AWS, Microsoft, Google, Nuance, Century Tech, Blackboard, Pearson, Cognii, Volley.com, Blippar, Knewton, Jenzabar, Content Technologies, PLEIQ, Luilishuo, Pixatel System, Cerevrum Inc., CheckiO, and Quantum Adaptive Learning.
Europe is expected to hold a significant market share with supportive government initiatives.