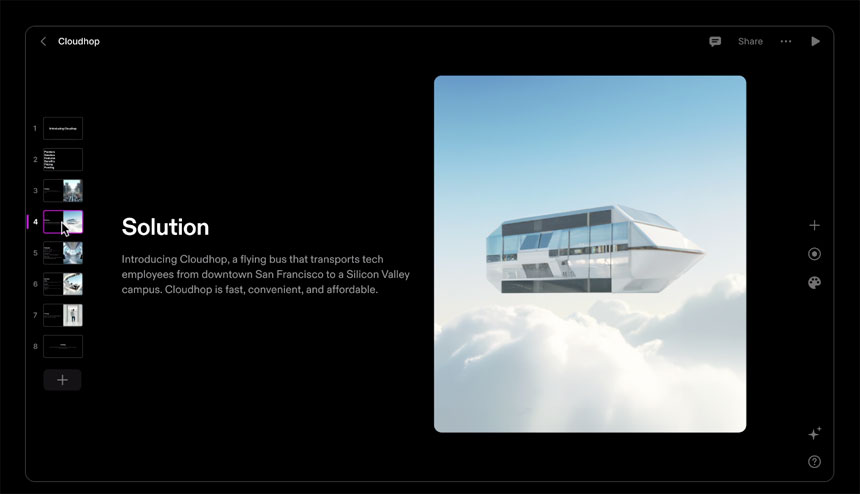 IBL News | New York
AI PowerPoint-style storytelling startup Tome recently raised $43 million in Series B funding.
Lightspeed Venture Partners led the round while individual investors included Coatue, Greylock, Stability.ai CEO Emad Mostaque, and former Google CEO Eric Schmidt.
While still in a pre-revenue stage, the company is now valued at $300 million post-investment, up from $175 million at its 2021 Series A round, according to an article in Forbes.
San Francisco-based Tome says it's the fastest productivity software maker to ever reach one million users since its September release.
Tome's AI software rethinks the PowerPoint system organizing almost real-time presentations in PowerPoint or Google Slides, with slides organized by a table of contents.
"We set out to build a company that can help anyone tell a compelling story," the Cofounders of the company, Keith Peiris and Henri Liriani, said. "Storytelling is the elementary building block of productivity for humanity, from cave drawings to stories around the fire to PowerPoint."
Tome uses large-language models to make queries behind the scenes to fulfill a user's presentation prompt. First, its software generates an output framework; next, smaller queries fill out images and text. Users can then fine-tune the results or ask the AI to generate more pages via additional prompts.
Tome plans to charge about $10 per user for a monthly subscription when it rolls out its enterprise version this year.
Three decades after its debut, PowerPoint is still a force. Microsoft has invested heavily in OpenAI with a plan to integrate its models across its products. Collaboration software unicorns like Canva, Coda, and Notion are currently announcing AI features on their products.
It was fun showing @alexrkonrad what @magicaltome will be able to do in the (not far) future, like generating proposals based on learning your internal material, and offering increasingly insightful advice on how to craft a powerful story.

Check it out:https://t.co/h1PkRm5N5o

— Henri Liriani (@hliriani) February 22, 2023
The most valuable skill in business is about to become obsolete.

Designing a killer slide deck used to take days. Now AI can do it in seconds for anyone.

Introducing Gamma: your AI design partner for presenting ideas beautifully.

Launching today at https://t.co/HrkL4w2vG7 pic.twitter.com/eYpNyn0zpu

— Grant Lee (@thisisgrantlee) March 28, 2023