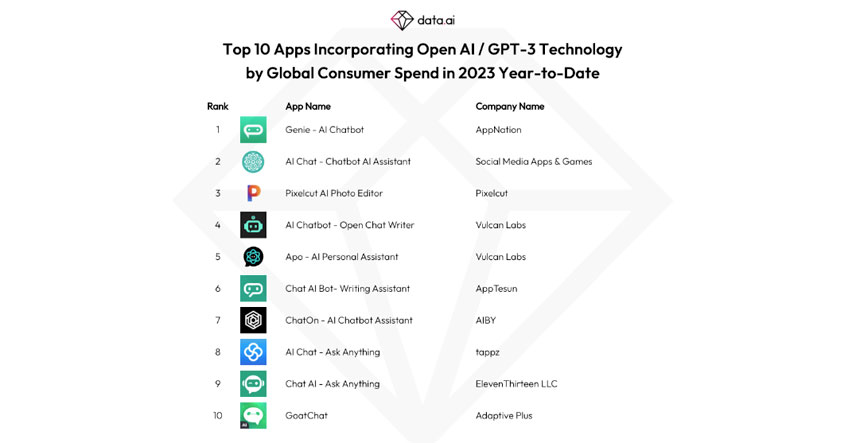 IBL News | New York
The top 10 AI mobile apps have already pulled in over $14 million to date, according to analytics provider data.ai.
These apps are mostly dubious ChatGPT apps claiming to be associated with OpenAI in order to charge hefty subscription prices for accessing ChatGPT — a service that's been free via the web.
This phenomenon is an indication of how much ground OpenAI has ceded in the mobile app market by not having its own official mobile app available.
For the most part, none of this group of apps are trying to establish their own brand and identity. Instead, they're keyword-stuffing their apps' titles to match the search terms of people who are looking for ChatGPT or similar, which are mostly "AI," "Chat," or "Chatbot" and "Assistant" will help drive.
The majority of the top 10 apps saw little consumer spending before ChatGTP's addition, in December 2022.
The only exception is the app Pixelcut AI Photo Editor, a "magic writer" copywriter tool that uses GPT. Its creator AI Photo Editor generated $19.8 million in 2022.
In addition to Pixelcut, the other nine earning apps are: Genie – AI Chatbot; AI Chat – Chatbot AI Assistant; AI Chatbot – Open Chat Writer; Apo – AI Personal Assistant; Chat AI Bot – Writing Assistant; ChatOn – AI Chatbot Assistant; AI Chat – Ask Anything; Chat AI – Ask Anything; and GoatChat.
Of these, Genie has generated the most revenue this year, with $3.2 million in global consumer spending so far in 2023.