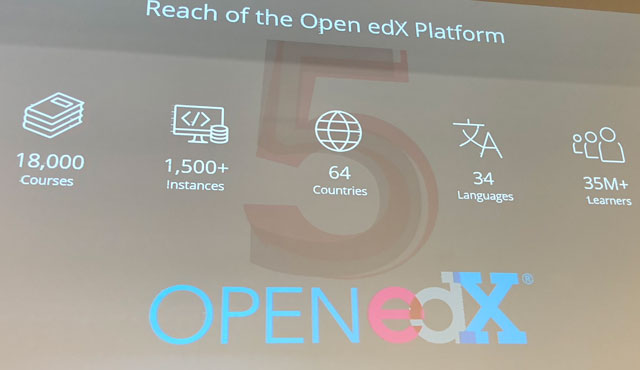 The fifth Open edX conference, which took place this week in Montréal, Canada, attracted over three hundred developers, educators and business professionals. The number of attendants was similar to last year's conference's in Madrid, Spain, said edX to IBL News.
The event was well organized, and participants' feedback was positive.
Next year's Open edX conference will be at the University of California at San Diego on March 26-28, 2019. Also, during the first quarter of 2019, the next Open edX platform version, called "Ironwood", will be released. (It will come after "Hawthorn", expected for this June or July).
This year's edition in HEC Montréal University was officially opened with a keynote by Anant Agarwal, CEO at edX. He disclosed that the number of Open edX instances has grown from 800 instances in 2017 to 1,500 in 2018, with over 18,000 courses and 35 million learners.
"Open edX is the largest educational platform in the world", he said.
Here is a selection of the most interesting tweets posted during the conference:
Incredible time at #OpenedX2018 this week. Such a wonderful opportunity to share ideas and discuss innovative ways to continue to improve the @OpenedX platform.

— anant agarwal (@agarwaledu) May 31, 2018
Reminder: you can catch all of our plenaries and breakouts on our YouTube channel: https://t.co/s0zcHL0oAh #openedx2018

— Open edX (@OpenEdX) May 30, 2018
Excited to celebrate 5 years of @OpenEdX at #OpenedX2018 in Montreal. 35M learners and counting!

— Mark Haseltine (@MarkHaseltine) May 30, 2018
MOOC economics for Johns Hopkins' Data Science and Wharton's 7 Business Specializations on Coursera

Comparing revenues from learner certificates against development costs

The Net was split with Coursera#OpenedX2018 pic.twitter.com/fBaaFFH7ld

— Miguel Amigot (@miguelamigot) May 30, 2018
Yup, I am somewhere in the back 🙂
It was a pleasure having all of you in Montréal for #openedx2018 and the #devsummit. Let's do this again in San Diego for #openedx2019 https://t.co/anR4aoRwTF

— Pierre Mailhot (@sambapete) June 2, 2018
edX CEO Anant Agarwal Announces Ambitious Goals for 2022 | eLearningInside News https://t.co/NOmc1JCAA7 #openedx2018

— Mark Rollins (@MJRLearning) May 31, 2018
AI-powered personalized learning will be a standard by 2022 on edX!#Openedx2018 pic.twitter.com/B0U3W6ymGi

— RaccoonGang (@RaccoonGangCom) May 30, 2018
Open edX releases timeline#openedxhawthorn #openedxironwood#OpenEdX2018 pic.twitter.com/r75hnQjI2U

— RaccoonGang (@RaccoonGangCom) May 30, 2018
Five years of @OpenEdX #OpenedX2018 pic.twitter.com/0XEcPpN31C

— ExtensionEngine (@ExtensionEngine) May 30, 2018
Updated mobile app for #OpenedXHawthorn#OpenEdX2018 pic.twitter.com/MKsgqBlGY9

— RaccoonGang (@RaccoonGangCom) May 30, 2018
Agreed that LMS's are old and unexciting.

We've evolved into building learning ecosystems — with Open edX, of course.

Come to our talk about enterprise learning ecosystems with @GlobalKnowledge in 1.5 hours!https://t.co/qD02ll6Ind#OpenedX2018 pic.twitter.com/ef3YWFJwuv

— Miguel Amigot (@miguelamigot) May 30, 2018
A couple of changes in the conference schedule. Today at 3:15 EDT, @bigbluebutton will talk about integrating with Open edx – https://t.co/d2dFVhJJby #openedx2018

— Open edX (@OpenEdX) May 30, 2018
The morning plenary is streaming now: https://t.co/dtyPxfIK66 #openedx2018

— Open edX (@OpenEdX) May 30, 2018
We finished our first #devsummit at #openedx2018 – it was a fantastic, positive group from around the world. Many thanks to the wonderful people who made this happen, particularly @nedbat and Nimisha. pic.twitter.com/IZUxYuWl5X

— Open edX (@OpenEdX) June 2, 2018