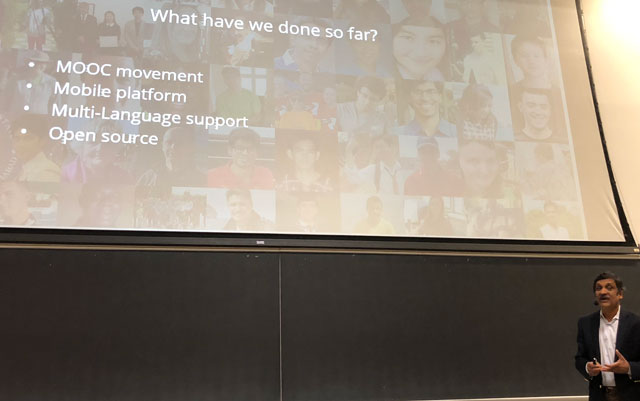 The edX Inc nonprofit organization, which currently handles the edx.org portal (16 million learners, 2,000+ courses, and 130 global partners) as well as the Open edX developers' community, expects to triple its global reach to 100 million learners in 2022.
Anant Agarwal, CEO at edX, made this prediction last Wednesday during the 2018 Open edX Conference opening keynote in Montréal, Canada.
Mr. Agarwal also disclosed that the number of Open edX instances has grown from 800 instances in 2017 to 1,500 in 2018, with over 18,000 courses and 35 million learners.
The keynote, titled "Reimagine Education Goals for 2022", available on YouTube, highlighted the goal of fully leveraging the power of digital technology for learning.
According to Mr. Agarwal, it could be accomplished through AI-powered personalized learning (e.g. HarvardX Super-Earth, Quant Methods courses), leveraging the engagement of VR and AR, and harnessing the power of networks, such as crowdsourced hinting.
Additional challenges will be based on unleashing the power of cognitive science (e.g. retrieval learning), as well as deploying deep analytics for learner engagement and platform stickiness.
Another highlighted goal was to establish lifelong learning for all by creating a community, developing a portfolio of valued as well as relevant credentials and partnering with corporations.
edX has plans to challenge its member partners to accelerate one year of Bachelor's degrees with online credit, offer 20 percent of undergrad education to campus students fully online as well as offer both fully online and campus degrees and micro credentials at the Master's level.
Finally, Anant Agarwal presented the goal of building a fully modular model for education.
What follows are the main slides of his presentation: