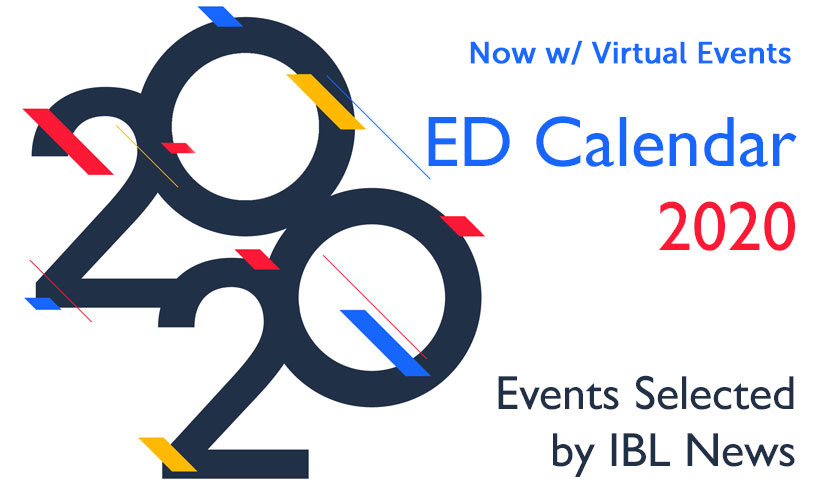 IBL News | New York
[PLEASE CHECK OUR IBL CALENDAR FOR AN UPDATED LIST]
The COVID-19 virus changed the attitudes and behaviors of society overnight.
Due to the global pandemic, a small number of in-person conferences – less than 25 – decided to proceed as virtual events, covering the same topics, although in this case with fewer speakers.
Usually, previously registered attendees are automatically signed up for digital conferences. New attendees either purchase a ticket or access for free.
Online-only events started at the end of March.
This is a list of events IBL News has collected, adding them to their conference calendar:


MARCH 23-25, 2020, San Francisco, CA  – Virtual Event
EmTech Digital 2020, by MIT Technology Review
MARCH 23-25, 2020 – Virtual Event
Business of Software Europe
MARCH 29 – APRIL 2, 2020, Las Vegas, NV – Virtual Event
Adobe Summit North America
APRIL 6-8, 2020, Bonita Springs, Florida  – Virtual Event
Chief Learning Officer Symposium
Wednesdays in April, 9-11 AM PT – Next event: April 8th  – Virtual Event
GSV Virtual Summit Series
APRIL 21-22, 2020, Chicago, IL – Virtual Event
Coursera Conference 2020
APRIL 21, 2020 – Virtual Event
STEAM Week
APRIL 21 – MAY 1 – Virtual Event
OLC Ideate
APRIL 28-29, San Francisco, CA – Virtual Conference
Red Hat Summit
MAY 4-7, 2020 – Virtual Event
Summit 2020 Virtual Experience – Forrester Sirius Decisions
MAY 4-7, 2020, San Francisco, CA – Virtual Event
IBM Think 2020
MAY 11-16, 2020 – Virtual Event
SANS Security West 2020
MAY 12, 2020 – Virtual Event
All Things Open 2020
MAY 13-14, 2020 – 9-1 pm PT – Virtual Event
Pulse Everywhere
MAY 27-29, 2020, Santa Clara, California – Virtual Event
Augmented World Expo
MAY 28, 2020 – Virtual Event
DockerCon LIVE  Virtual Event

JUNE 2-3, 2020 – Virtual Event
Cisco Live
JUN 8-9, Cambridge, MA – Virtual Event
EmTech Next at MIT Media Lab
JUN 13-20 – Virtual Event
SANSFIRE 2020
JUN 15-26, 2020 – Virtual Event
OLC Innovate
JUN 16-18, 2020, Napa Valley, CA – Virtual Event
PBL World – Project-Based K-12 Symposium
JUL 10, 2020, Saratoga Springs, NY – Virtual Event
SUNY Empire State College – Learning with Innovative Technology
JUL 26 – August 2, 2020, Anaheim, CA – Virtual Event
D2L Fusion